More than a corporate party: How the first Evrone Fest went
The first Evrone Fest took place in mid-August of 2021 and was attended by our employees from more than 50 cities and European countries, including Germany and Slovenia. Read the article to find tips to holding corporate parties.
In 2020, due to the pandemic, Evrone did not get to hold its traditional New Year's corporate party. For us, as a distributed team, these offline meetings are very important. They allow us to personally meet colleagues who we normally only see as avatars in Slack. So in 2021, we knew we had to do something special, and we did!
The first Evrone Fest took place in Moscow in mid-August of 2021. It was attended by our employees from more than 50 cities and European countries, including Germany and Slovenia. Since our team grew significantly in 2020 and the first half of 2021, many people saw their colleagues in-person for the very first time.
How it all started
In April, we let everyone know that a large-scale party was waiting for them that summer. First, to make sure that no one would plan a vacation for the dates of the party. Second, because regular announcements about the planning of a big event would only pique interest.
The initial concept was radically different from what came out in the end. Initially, Evrone Fest was supposed to be a beach party at a hotel near Moscow. We planned to rent a suburban complex with a beach, swimming pools, spa, and all other possible entertainment.
The party would start with a buffet table on the beach and end with a club after-party at dawn. We were supposed to swim, sunbathe, socialize, eat delicious foods, drink our favorite drinks, and dance to great music. The organizers generously shared their plans and videos from the location in the company chat. But everything, as usual, did not go according to plan.
It turned out that music was banned in the location because the locals would be unhappy with the noise, the fireworks threatened the forest, and they refused to grant the spa zone for undivided use. Sure, all of that seemed logical and understandable, but we wanted a holiday!
How it turned out
In June, a message appeared in our general chat about a change of concept. We decided that, since Moscow never sleeps, it was the perfect place to rock until dawn. But we wanted to just enjoy Moscow first, so we decided to spend the first part of the corporate party on a ship that would take us along the Moskow River for several hours and show us the main sights of the capital.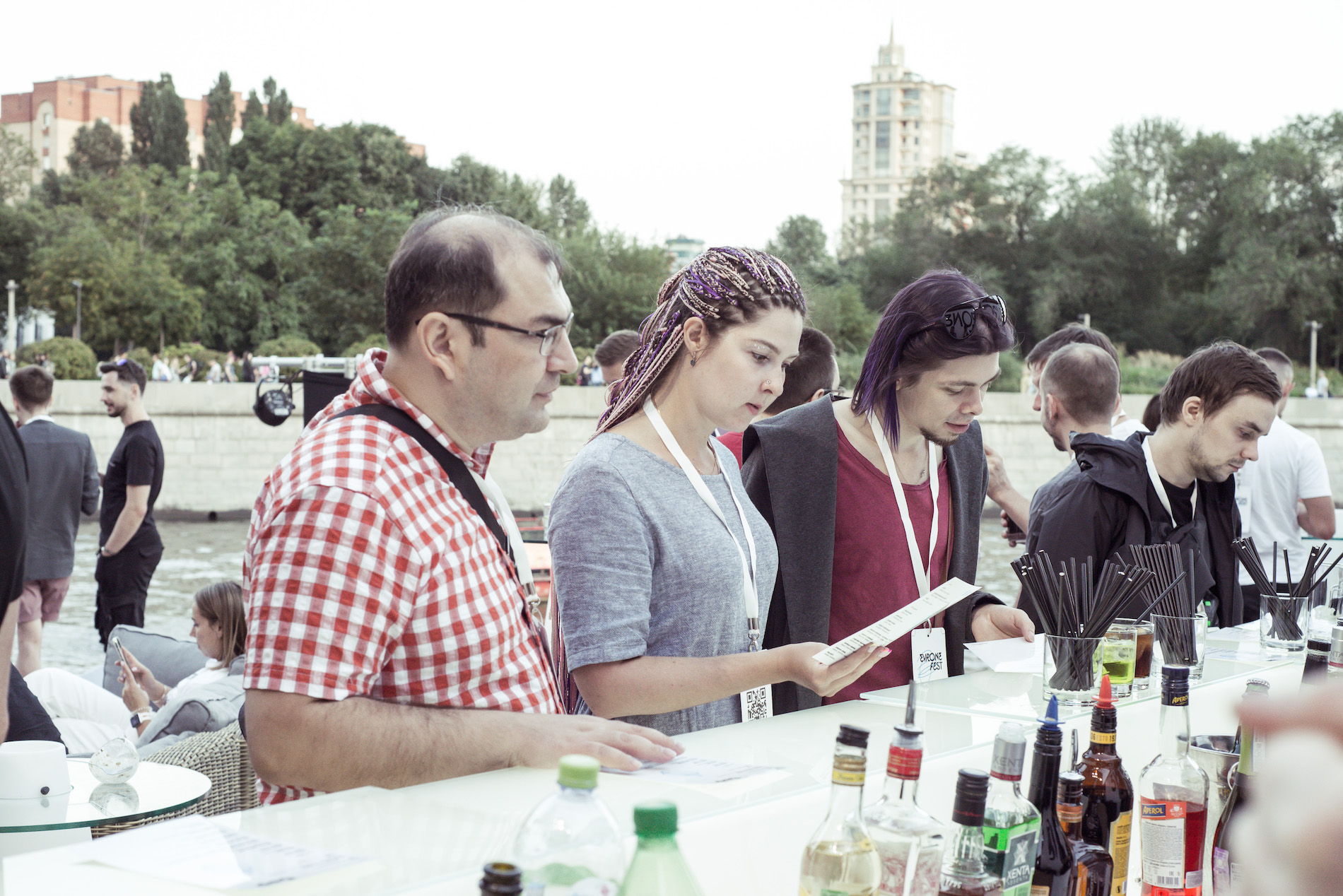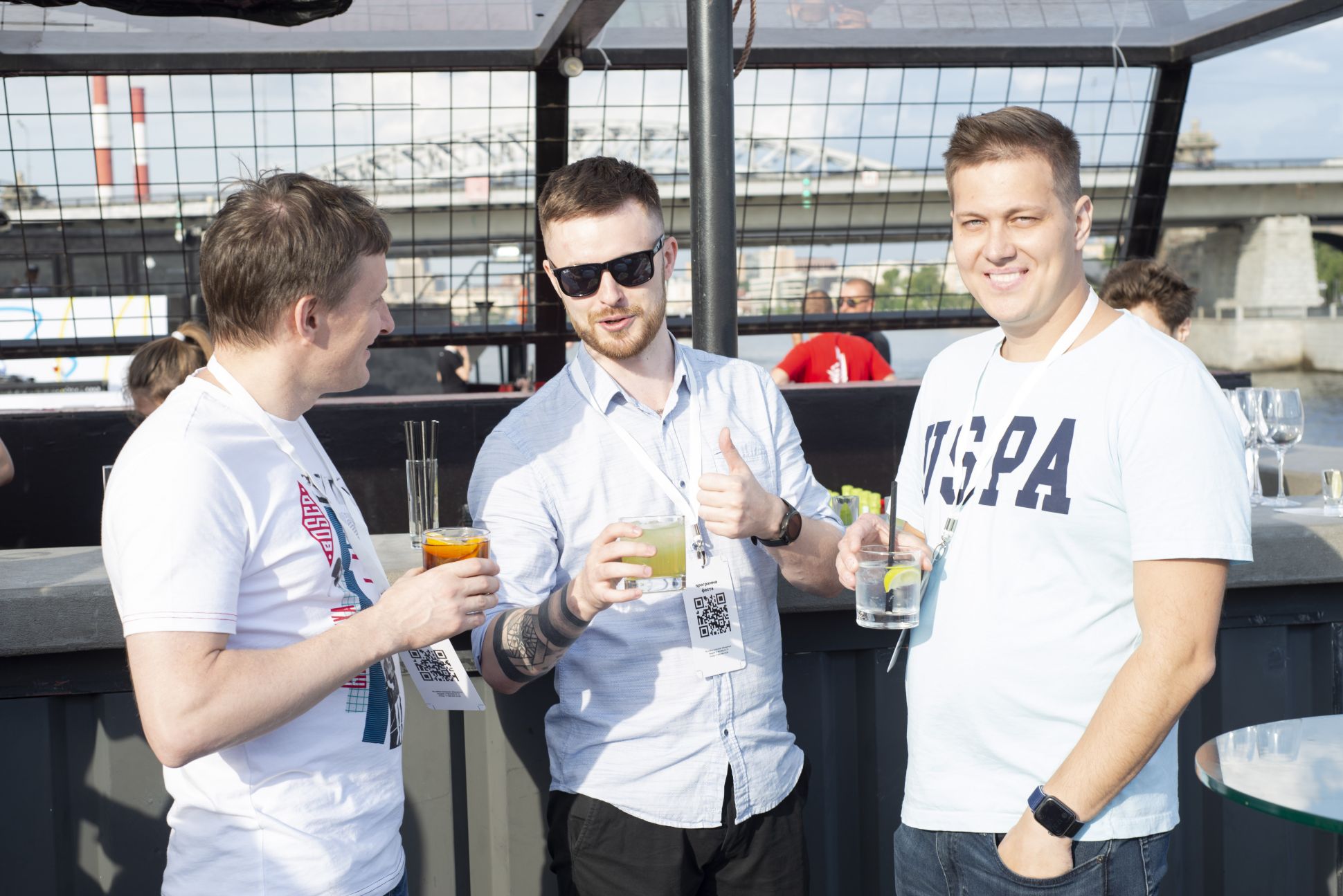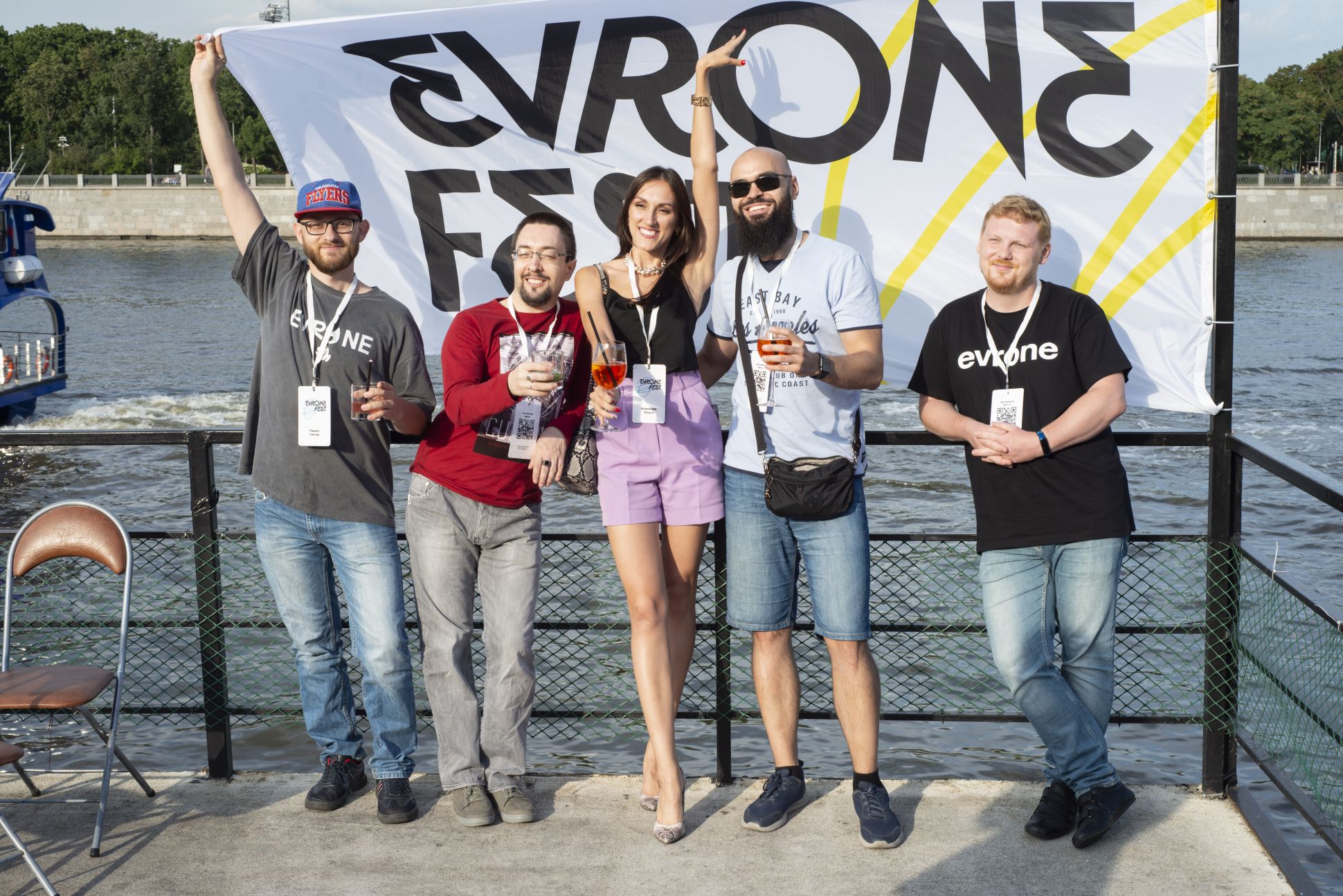 Of course, this was not a boring excursion. On the lower deck, a banquet and souvenirs awaited everyone, and upstairs there were two bars and a lounge area with DJs, a buffet table, hookahs, and sofas. You could eat, drink, chat, and everything else - just as it should be at a good party. Afterwards, the Imperial Yacht Club was waiting for us, where, in addition to the bars, hookahs, and a lounge on the pier, there was a casino, barbecue, and fireworks.
How it worked
Transport
Evrone reimbursed all travel expenses, including taxis to the hotel and back to the train station or airport. Everyone could choose the mode of transport that was convenient for them and buy tickets. The only condition was that they must be refundable, since we were not sure that coronavirus restrictions would allow us to hold the event.
At the hotel, buses were waiting to take everyone to the pier. But the Moscow authorities suddenly blocked the embankment, so we had to take a detour and continue to the pier on foot. But it turned out to be a great way for us to get to know each other.
Hotel
All of the guests who did not live in Moscow were supposed to stay at the President Hotel in the very center of the city, next to our Moscow office. Most of them successfully checked in. However, some of the previous hotel guests were so imbued with its hospitality that they did not vacate their rooms on time. Because of this, some of our guys had to be urgently accommodated in neighboring hotels.
Those who managed to check into the President Hotel invited those who were less fortunate to take a shower and change in their rooms, so that everyone came to the party fresh and beautiful. This is the real Evrone Power.
The hotel apologized for the late check-in, and some of us got a fruit basket and champagne in our rooms. And of course, the Evrone paid all the accommodation expenses.
Health
We take the health of our employees very seriously - no one wanted the whole company to come down with an infection after the party. Therefore, in order to attend the corporate party, it was necessary either to be vaccinated or to show a negative PCR test, at the expense of the company, no earlier than two days before the event.
We specially planned an outdoor party, so that it would be, not only cool and summer-like, but also safe for our team's health. All the interior spaces of the ship and the yacht club were disinfected before our arrival, and they provided a supply of masks and sanitizers.
Expenses
All expenses were reimbursed through our internal system, Career. All corporate travel expenses can be entered there and reimbursed, along with salary. You can also use it to track your vacation time, take sick leave, and find out when the 10% annual salary indexation will take place. We recently added a benefits section as well, which provides money employees can use to improve their lives through voluntary medical insurance, sports, creative outlets, and so on. The amount each employee receives depends on their level and experience in the company, and it also grows from year to year.
How it all went
We started getting to know each other even before the official start of the party. All newcomers to Moscow went to cafes not far from the hotel to meet those whom they knew only online.
The Ship
In true pirate tradition, we decorated our ship with a flag, and our designers developed an identity specifically for Evrone Fest. Everyone received badges right at the entrance to make it easier to meet and keep in touch. They also got merch: branded T-shirts and a power bank.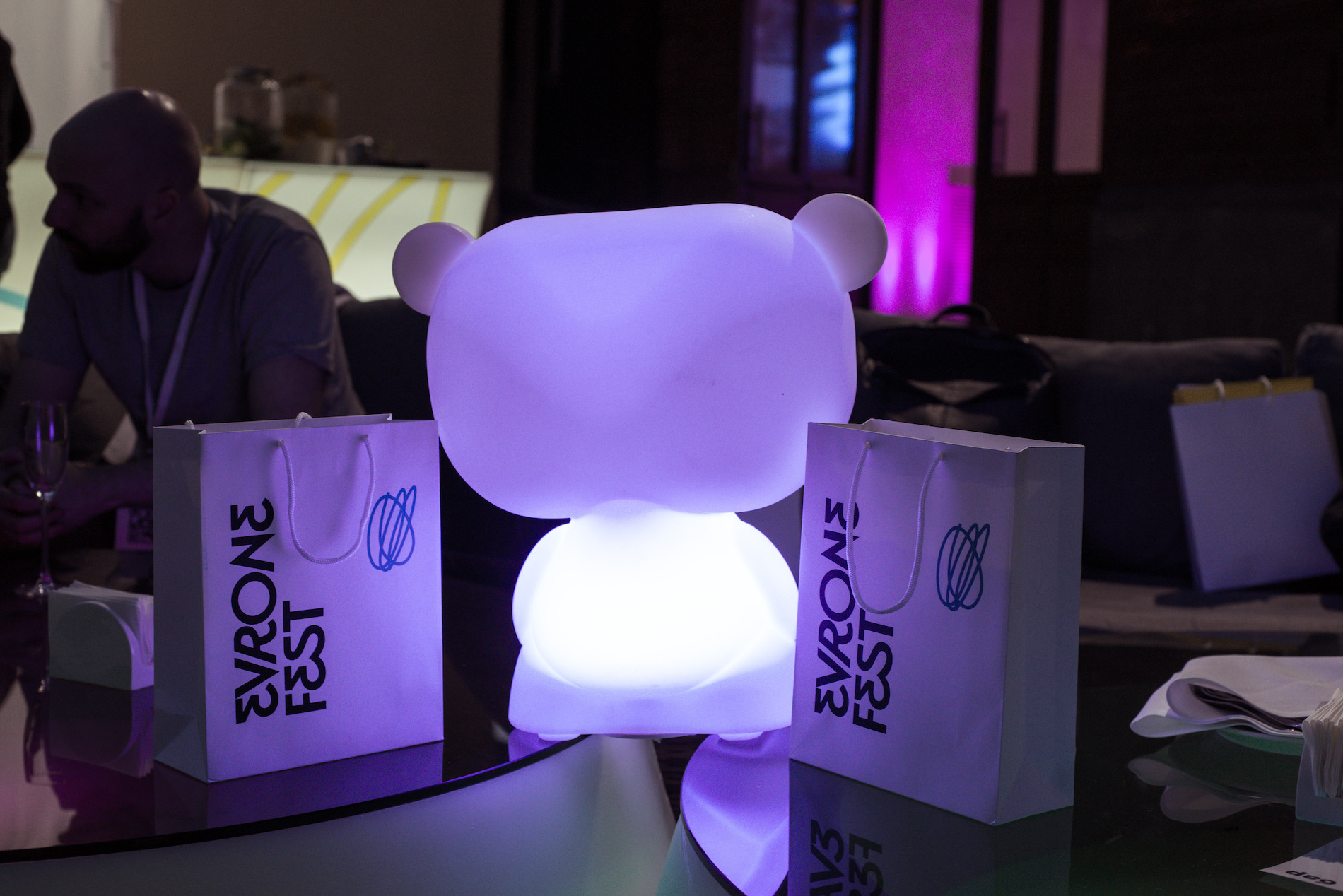 On the second floor of the ship there were two bars, music, a photo zone, hookahs, and comfortable bean bag chairs and sofas. We also provided a zone for introverts and those who find it difficult to immediately adapt to a crowd. For them, secluded corners were organized on the ship.
During the event, we had a photographer and video production team from LISPAKO on the ship. These guys tooks breathtaking panoramic shots of our party against the backdrop of beautiful Moscow scenery. They also made a film about the festival for us.
The Yacht Club
After traveling down the Moskow River for a couple of hours, we moored on the Bersenevskaya embankment and went to the yacht club, right next to the monument of Peter the Great. The club itself is located in a building built in 1868, in which the Romanov royal family stayed. There are three floors in total, and an attic and a basement with auxiliary rooms. Inside the loft, there are preserved ceiling moldings and vintage furniture and decor.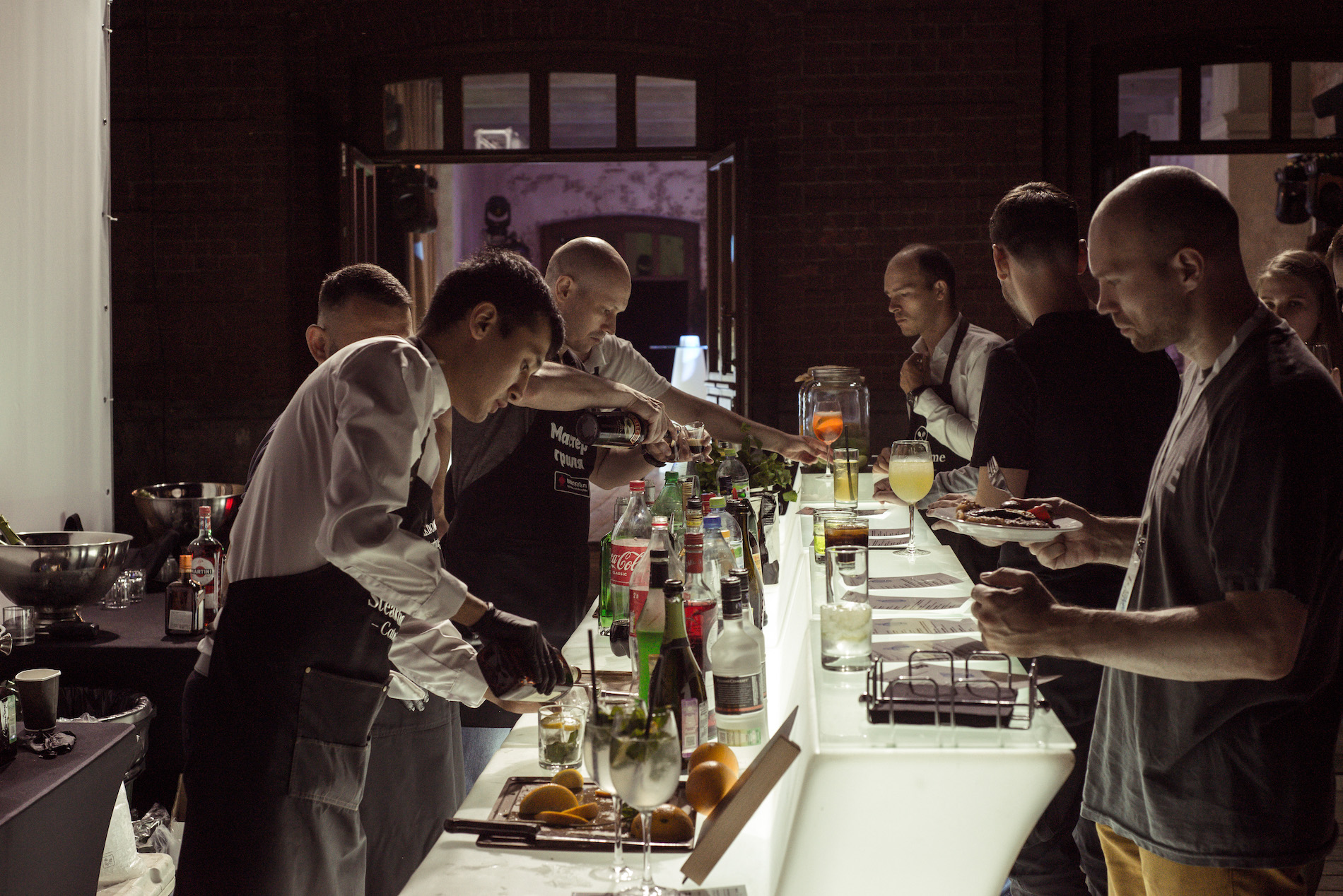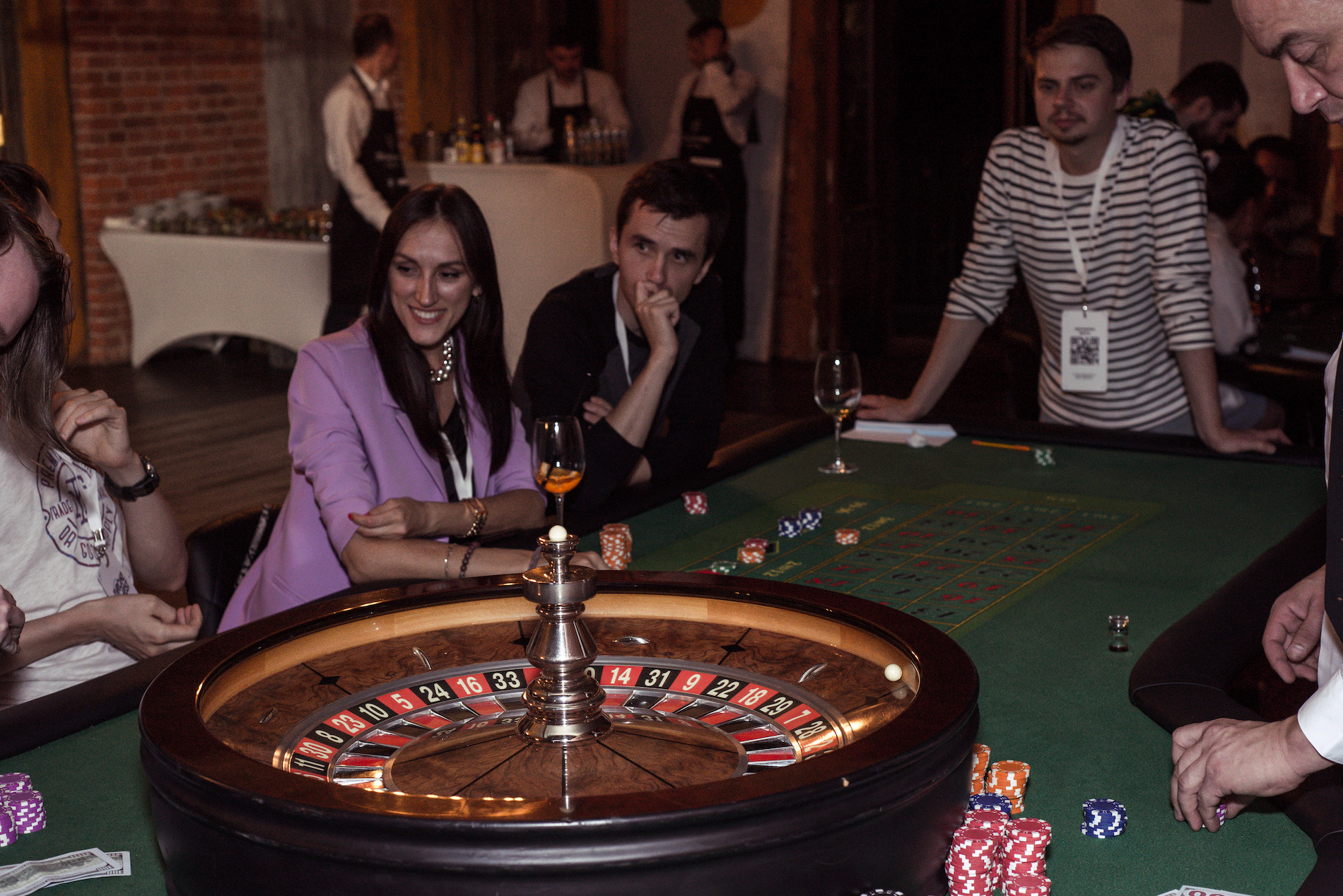 The main action took place outside, where there were tables, sofas, hookahs, a large bar, and a barbecue. Everything was cooked on charcoal: burgers, steaks, fish, vegetables, and potatoes. And the steaks won the Audience Award that evening.
But the most interesting thing was in the hall on the second floor. There was a real casino there with dealers, chips, and three tables for blackjack, roulette, and poker. Only the money was not real. Each guest received 500 in Evrone-money, which they could either safely lose or multiply and use to participate in the auction at the end of the evening. Everyone showed how well they work together and play together, and even the dealers noted the level of conflict management in our team. Everyone who wanted to participate in the auction - and become the owner of an electric scooter, a robot vacuum cleaner, or a Yandex station with Alice - told their colleagues what prize they wanted and calmly took it. There were enough gifts for everyone.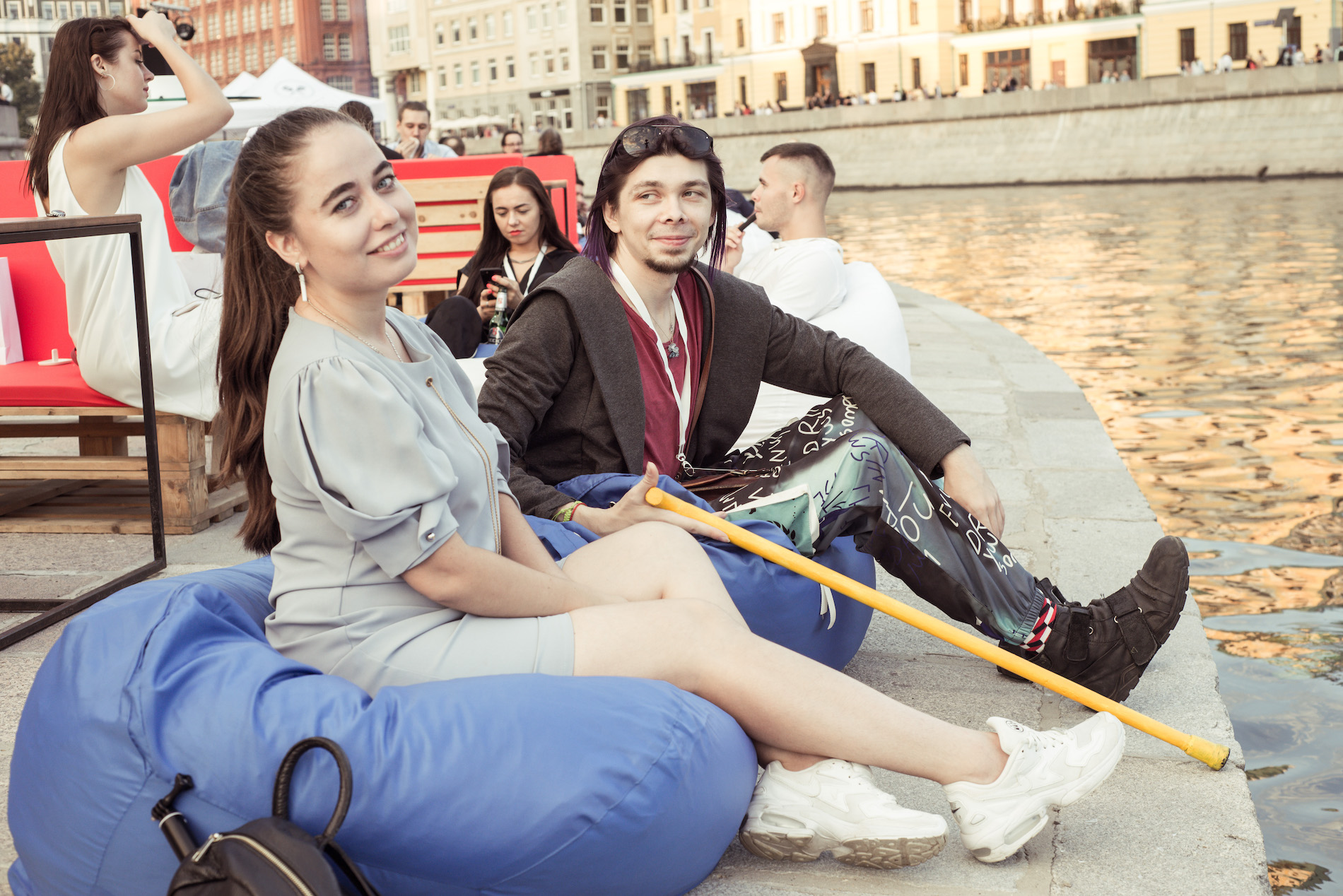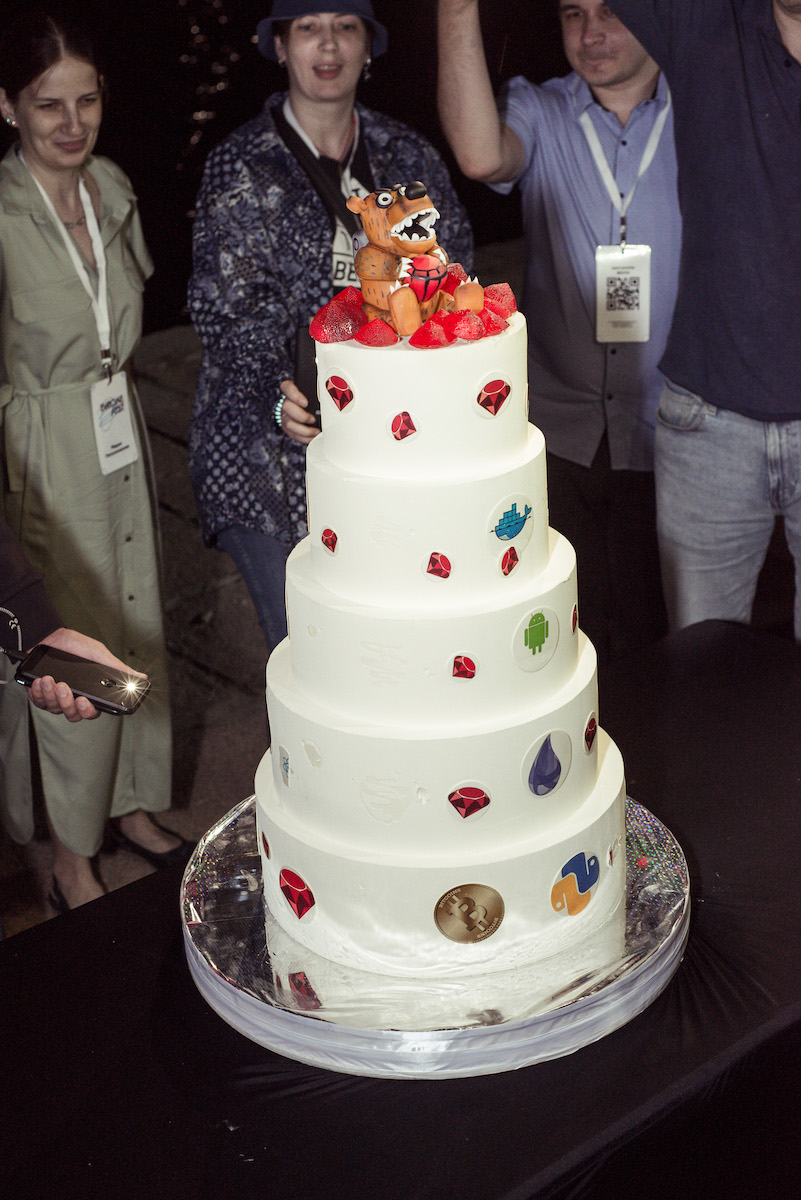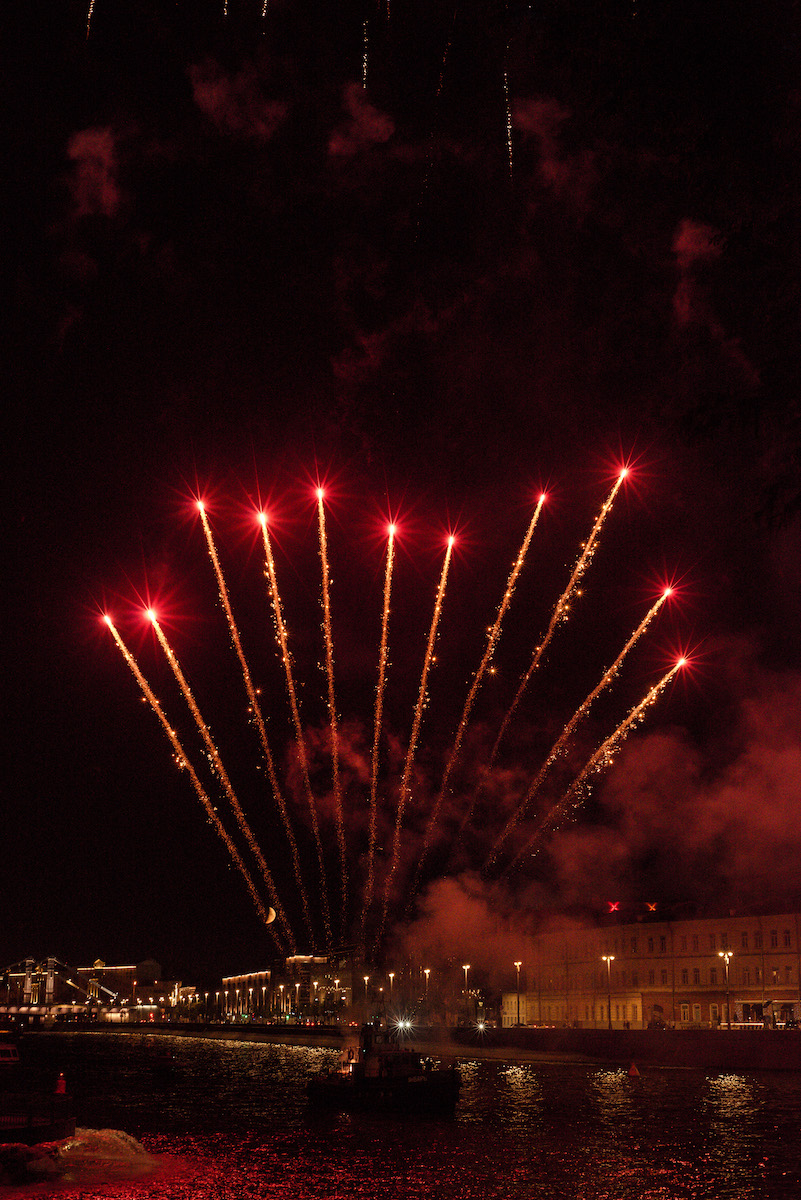 Of course, what's a holiday without a cake? And we had it too: pink and cream, with fireworks. To culminate the evening, we watched the fireworks explode right over the veranda of the yacht club. In the volleys of fireworks, even the controversial sculpture of Peter looked majestic and elegant. After 40 minutes, a second round of fireworks started, but they were not for us. They were in honor of our neighbors from Red October, but we decided not to deny ourselves the pleasure and enjoyed the second round of fireworks too.
Morning
After breakfast at the hotel, one last surprise awaited us: lunch at the Howard Loves Craft bar, on Red October, with a prepaid deposit by the company. For those who were still going - or recovering - from the previous evening, there were several hundred different beers and related drinks, but there were also non-alcoholic options for the most conscious. And, of course, a lot of food. The sweet potatoes and meat chips were especially popular.
Conclusion
We know for sure that this was not the last Evrone Fest. The company is getting bigger, our geography is getting wider, the complexity of tasks is also growing. So we will definitely meet again and perhaps even hold the fest in other cities where we have offices.
We really want to turn Evrone Fest into a cool and large-scale event for more than just our employees. Therefore, the next festival will be open to our friends, partners, clients, and, of course, family members.
We hadn't seen each other for a long time! Our traditional corporate parties, which are attended by all of Evrone, were interrupted due to Сovid. But now, a year and a half after our last meeting, we finally saw each other and had a good rest. And I am very glad that our annual meeting, a large and important part of our corporate culture, has been restored and will happen again!
Evrone is growing, which means corporate events are getting bigger and more complex. We managed to settle everyone, put them in hotels, give them something to drink and eat, and make them happy. Thanks to everyone's support, this holiday turned out to be so cool. We will, of course, work on the mistakes and will prepare more thoroughly, check contractors, and provide for more fallbacks.