Evrone at Highload++ 2021: stands, games, magic
In 2021, Highload++ Spring was held on May 17-18 in Moscow, with a limited number of participants. We became Highload partners back in 2020. In 2021, we participated in full, showed films about ourselves at the stand and gave a presentation in the main hall.
Highload is the largest professional IT conference for developers of high-load systems. It has been held in Russia since 2007, and during this time more than 22,000 people have taken part in it.
At Highload, people discuss all aspects of the development and support of high-load systems, from design to hardware and hosting. In addition to reports, there is an exhibition where market participants talk about themselves and, of course, there are afterparties, where they consolidate contacts in an informal setting.
In 2021, Highload++ Spring was held on May 17-18 in Moscow, with a limited number of participants. Due to coronavirus restrictions, 9000 sq. meters could only accommodate 1600 people. But the exhibition turned out to be the largest in history. It had 30 company stands, and one of them was from Evrone.
We've been presenting at and attending conferences for years, and we became Highload partners back in 2020. However, due to the pandemic, some of the events that year were canceled, and some were moved online. But in 2021, we participated in full. We showed films about ourselves at the stand and gave a presentation in the main hall.
Corporate stand: games, sharks, stickers
It is good to attend conferences to keep abreast of emerging technologies or frameworks, and conferences also give you the chance to meet potential developers. And a corporate stand at an IT conference is a great way to tell the community and potential clients about yourself. The goal is to interest and retain visitors using eye-catching designs and various activities.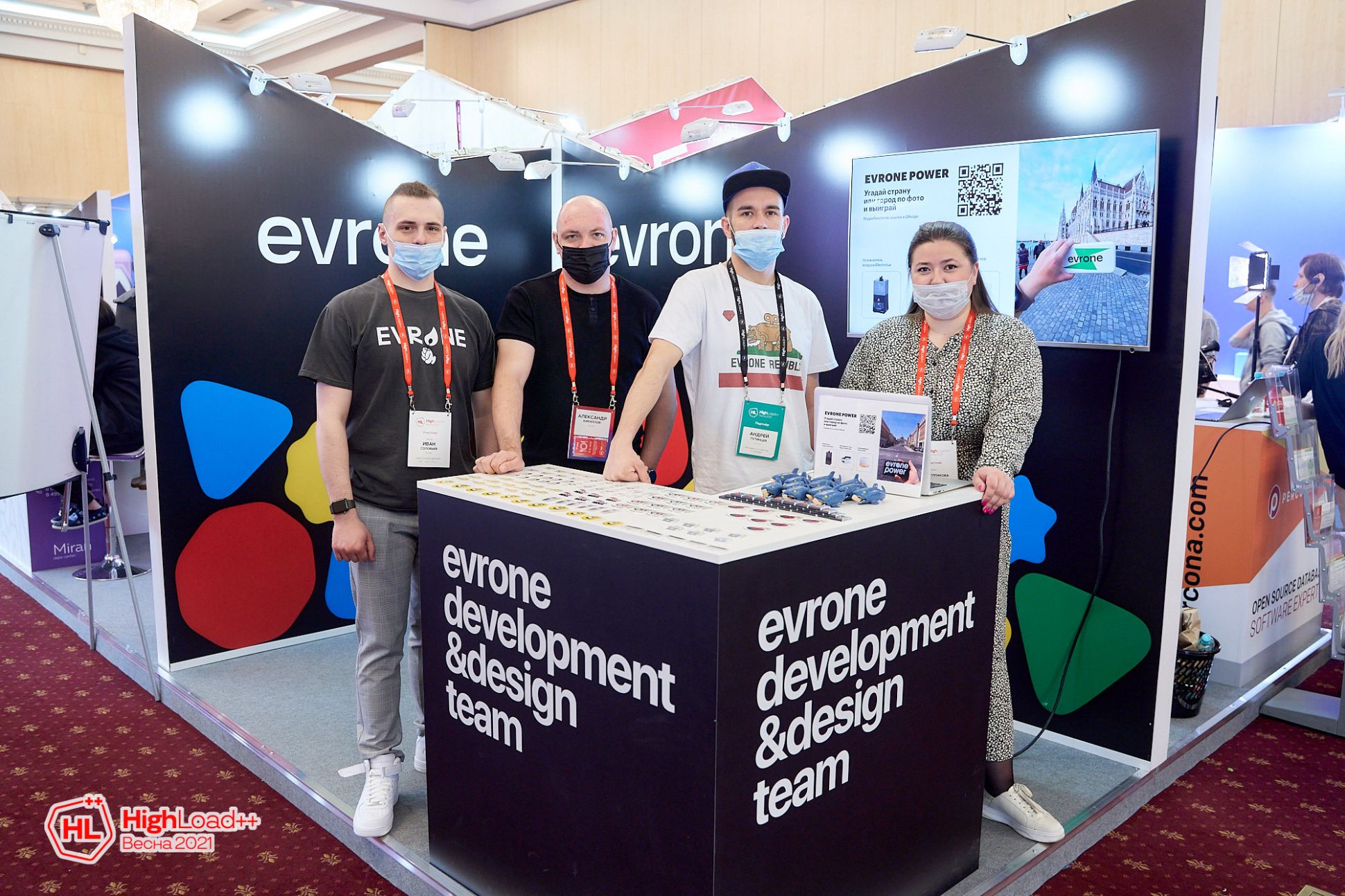 At 80% of the stands, visitors are offered some kind of tech entertainment, such as solving tasks and puzzles. We decided that in between serious reports, visitors would want to relax and unwind, so we invited them to play. The Evrone Power campaign started with an internal trend, which we turned into a game. Our employees took photos with a branded power bank while traveling and shared them with colleagues. We invited the stand's visitors to guess where the pictures of the power bank were taken. It was a great way to interact with visitors and it was topical, since we could only dream about free travel at that time.
Developers always stock up on free gifts from the conference - souvenirs from partners. We know that programming is a nerve-racking activity, so we chose anti-stress squishy toys. For romantics - a chicken with an egg, for cynics - a shark with human legs. By the end of the first day, we had distributed all of them.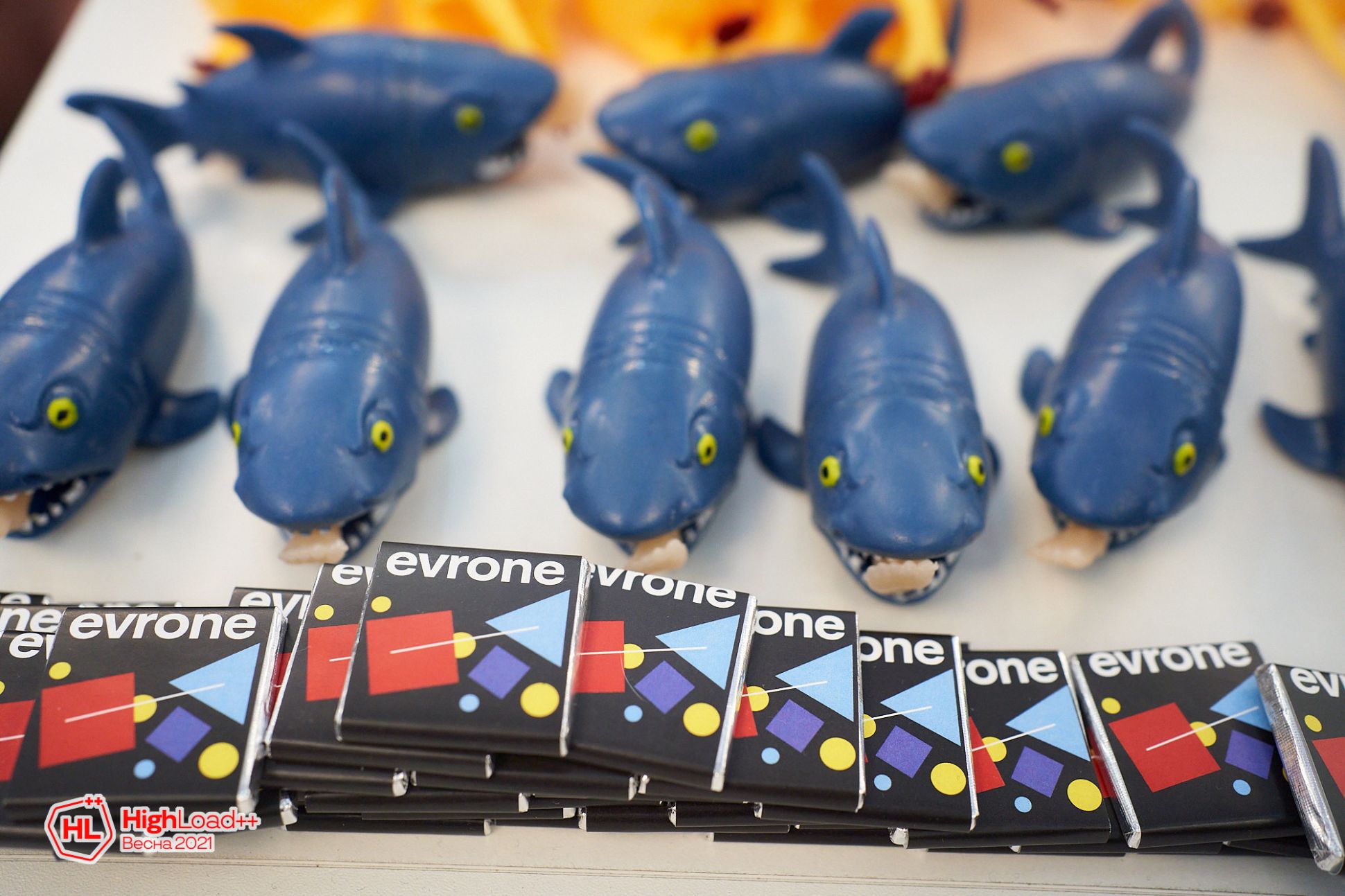 But we thoroughly stocked up on stickers. Our designers made sets of stickers with references to internal IT humor, which the IT community really liked. At all conferences and meetups, they go like hotcakes, and for such a large forum, we printed a huge number of stickers. As a result, in two days we handed out almost 1,000 sticker packs. This means that almost 1,000 people now display our brand on their gadgets. In the wake of their success, we digitized the stickers and added them to Telegram. You can download them here.
Presentation: bringing Ruby back to life in high-load projects
Speaking at Highload is a dream come true for many developers, and a great success in itself. Hundreds of reports are submitted every year, but only a few are included in the program. Reports at Highload 2021 were selected by a very strict program committee, which included the best experts in the industry. The program grid includes reports that raise important and topical issues of the industry for discussion, telling about the experience of speakers or the companies they represent.
Several reports were submitted to the spring conference from Evrone, but only one was included in the program. "Python and Ruby under load: the lowest level," by Grigory Petrov, Head of Developer Relations at Evrone, was featured in the "Architecture and Scalability" section.
Every performance is a show, and the speakers strive to have an impact on the audience and be remembered. Grigory surprised the audience by dressing as a wizard, in a dark long coat with a tightly pulled-down hood. And the report itself was presented in a fantasy style, intertwined with technical details.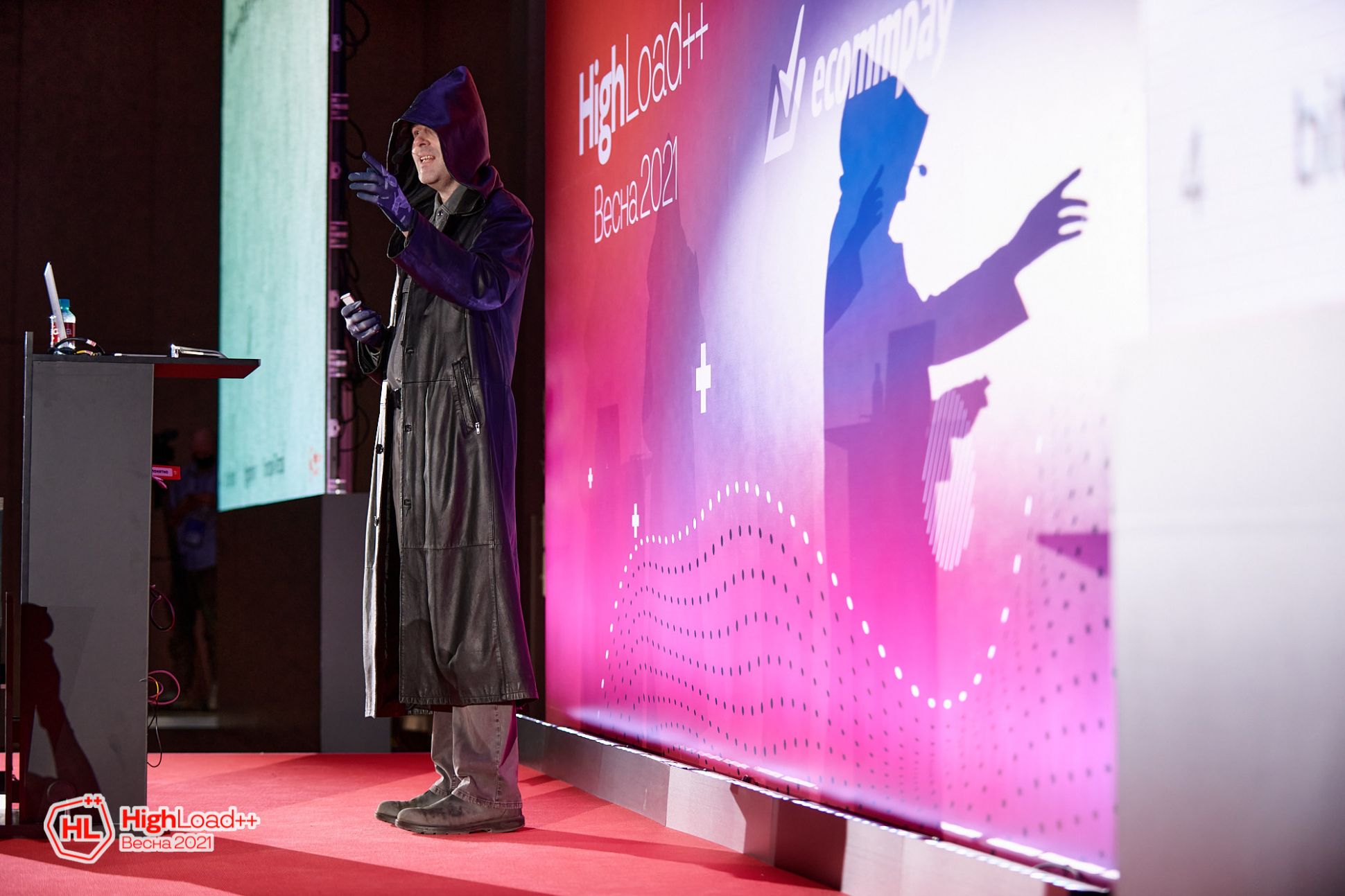 I have been writing code for over 20 years now. I was writing code in different programming languages and many of these languages are considered dead now. At least that's what they say. I want to talk about the high art of magic & necromancy. About how languages that are considered dead are used in large and sometimes high-load projects.
What is the report about?
In short: It is generally accepted that Python and Ruby projects are not designed for heavy workloads, but this is not always the case. Python and Ruby are really slow and with the GIL, when used correctly, this is not a problem, but an expense.
A little less briefly: When an easy way to scale service under load disappears, a high-load appears. But many services have been running on non-high-load PHP, Python, and Ruby for years, processing thousands of web requests per second, without the need to write their own PHP compiler or switch to Go from Rust. Grigory explained when exactly the turning point for Python and Ruby comes. Using examples of typical Python and Ruby projects, he showed what exactly happens after nginx, how modern application servers for these languages ​​interact with virtual machines, what web frameworks give and take away, and how all this differs in speed from the "C high-load", capable of issuing hundreds of thousands of requests per second.
Where to watch? The recording is available on Youtube (in Russian): 
Evrone has been developing complex and high-load projects for 13 years, and we know how to build the ultimate tech stack for scale and the best architecture for a high-load system. We have a large, professional team that has experience solving interesting problems, and our team members love taking on new projects and challenges that allow them to grow and improve their skills.
If you are looking for a team to solve your project's problems or need help with ongoing development and making technology decisions, send us a message, and we will be in touch soon to see how we can help.
For any company, conferences are a way to show yourself on the agenda. Highload provides an opportunity to share experiences; they have a very powerful range of reports presented. We are glad that we were able not only to participate, but also to perform there. This means that the industry recognizes our expertise. Also, participation in Highload is important to us because we organize the RubyRussia conference, and the best practises inspire us.