Train your design thinking with ORACULO
ORACULO is a simulator for UX designers. Created by Evrone, it generates non-standard tasks that help develop product thinking. A character of the same name will offer you three random cards that will not tell your fate, but will provide an unexpected topic for design practice.
Product design is not about drawing interfaces, but about the practice of using purposeful thinking to solve practical problems. It is precisely such tasks that ORACULO helps to formulate. It helps to learn to think systematically, to look at the task through the prism of the product or client and the interface, and it helps to learn to see the relationship between them. Such design thinking can only be trained by solving practical problems.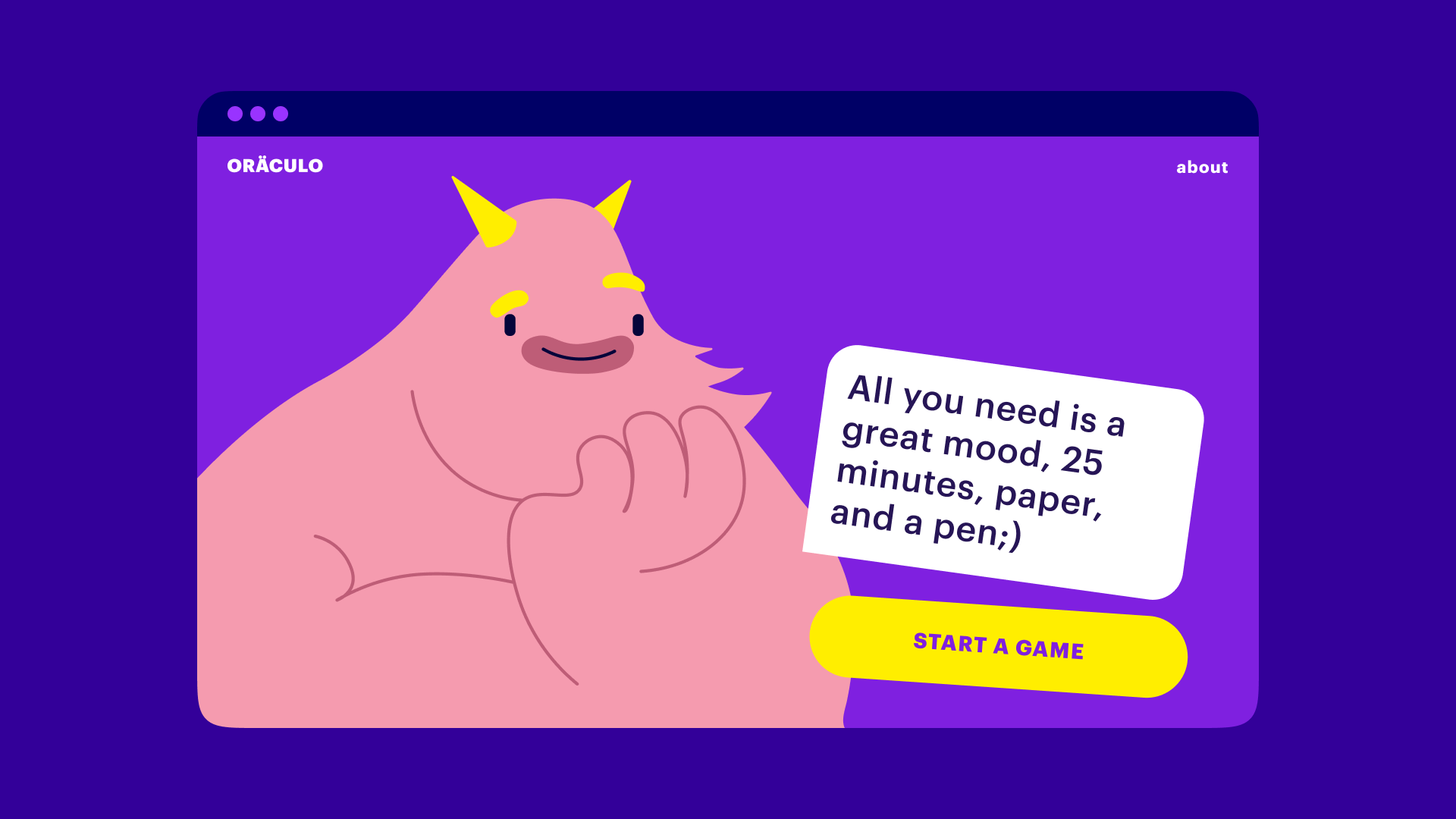 How does it work?
All you need is a blank sheet of paper, a pen, and 25 free minutes. Paper can be replaced with a whiteboard or digital board, if it is more convenient. The service randomly and independently generates three cards that describe the product, its user, and the interface to be developed. For example, a delivery confirmation page of a food ordering service for travelers.
The user has to "unpack" each card, find additional facts related to it, and link them together. And then formulate the problem and propose a solution.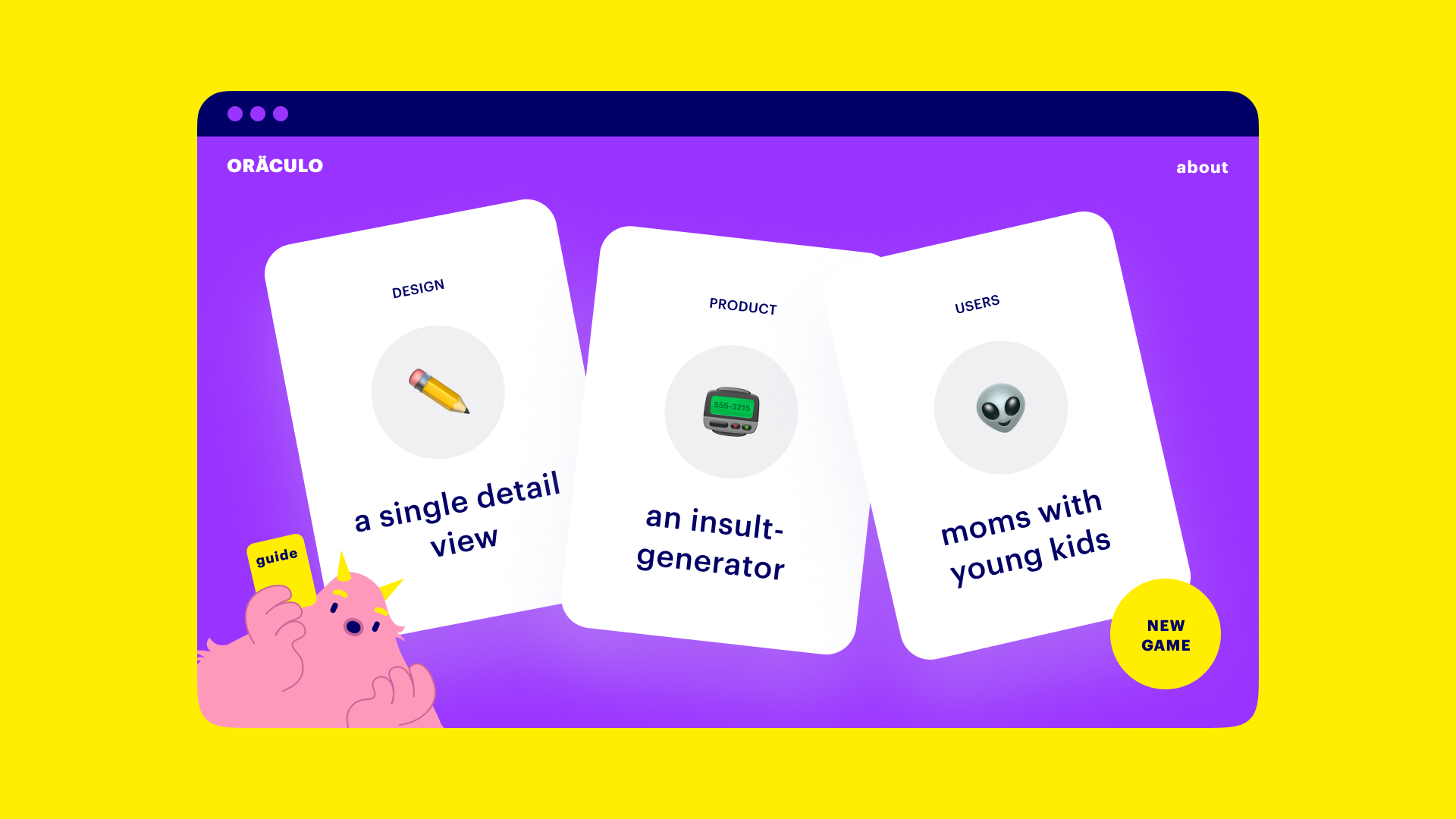 The tips section has detailed instructions on how to approach the solution of the problem, with timing and leading questions. First, it is worth formulating a hypothesis that will help provide a better understanding of ​​​​the service as a whole and what user scenarios exist. Then we turn to specific questions: What problems can a user have? How can you resolve them? Are there similar solutions on the market? Finally, you need to sketch ideas for the presentation and integrate them into the interface.
It is possible to use ORACULO alone, but it is much more interesting to play with a team. Someone can be the client, while others are designers who solve their problem. So it's possible to look at the problem from different angles and come up with more options for solving it.
Why is it needed?
Such challenges can be used for different purposes. First, it is an excellent simulator for developing design thinking. The generator can create unexpected tasks that are unlikely to occur in reality, making them more interesting to solve.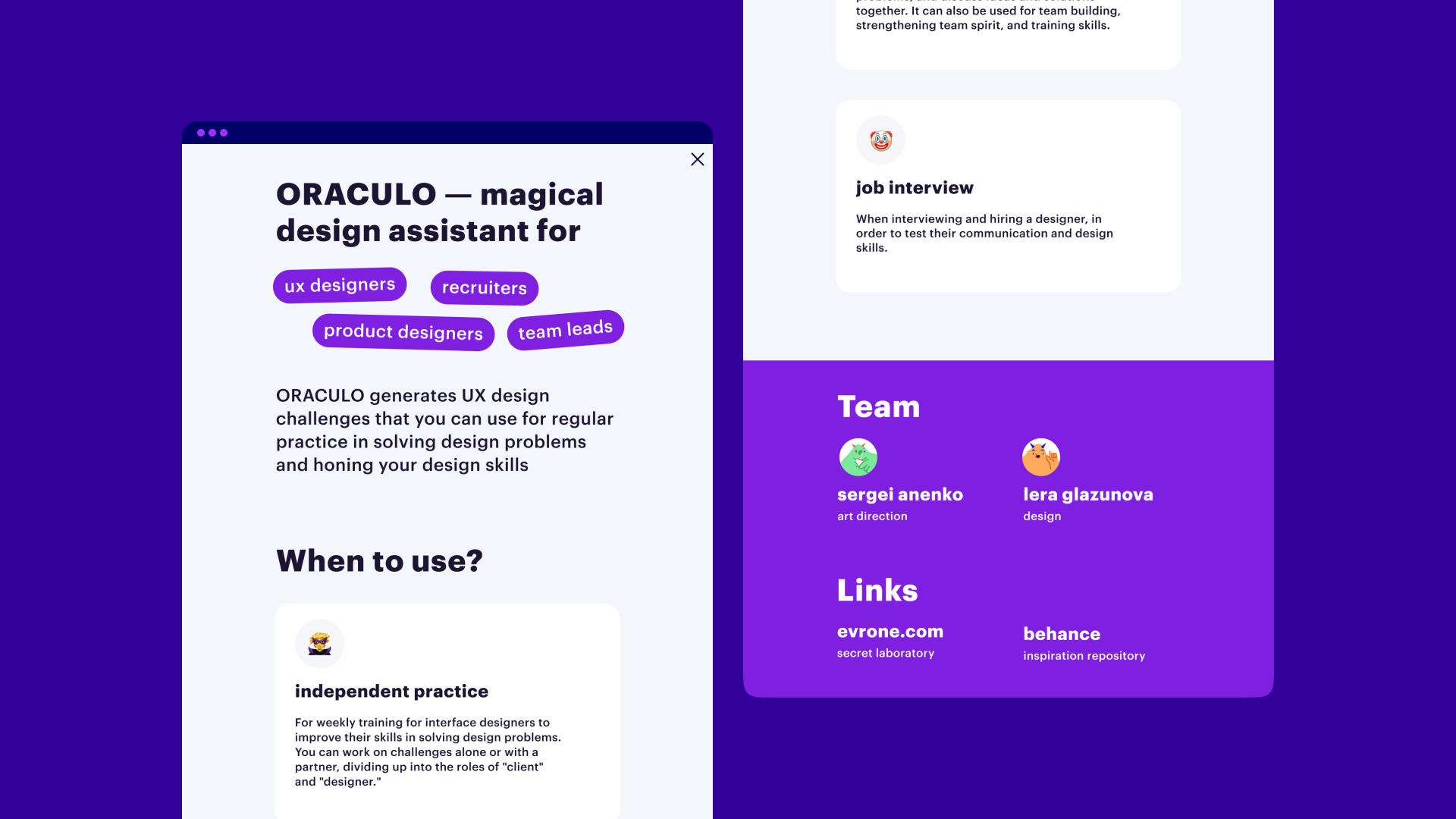 Second, the generator can be used to improve teamwork skills. It teaches how to discuss problems, listen to other people's ideas and offer your own, and look together for the best solution for the client.
Third, it can be used as a test task during an interview. Such a game will help the candidate demonstrate their train of thought and approach to problem solving, as well as show how well they can communicate with clients.
Design
We wanted the challenge to feel easy and fun, like a game, not a serious task. This is a game in which you can try on different roles and implement different scenarios.
When we started thinking about the design of ORACULO, the idea came up to add a character that would help the user understand the service and generally support them in their work. Then we realized that we already had such a character. It was originally created for another project—a logo generator, which never launched. The funny monster fits perfectly: he is informal, moderately friendly, and does not draw too much attention to himself.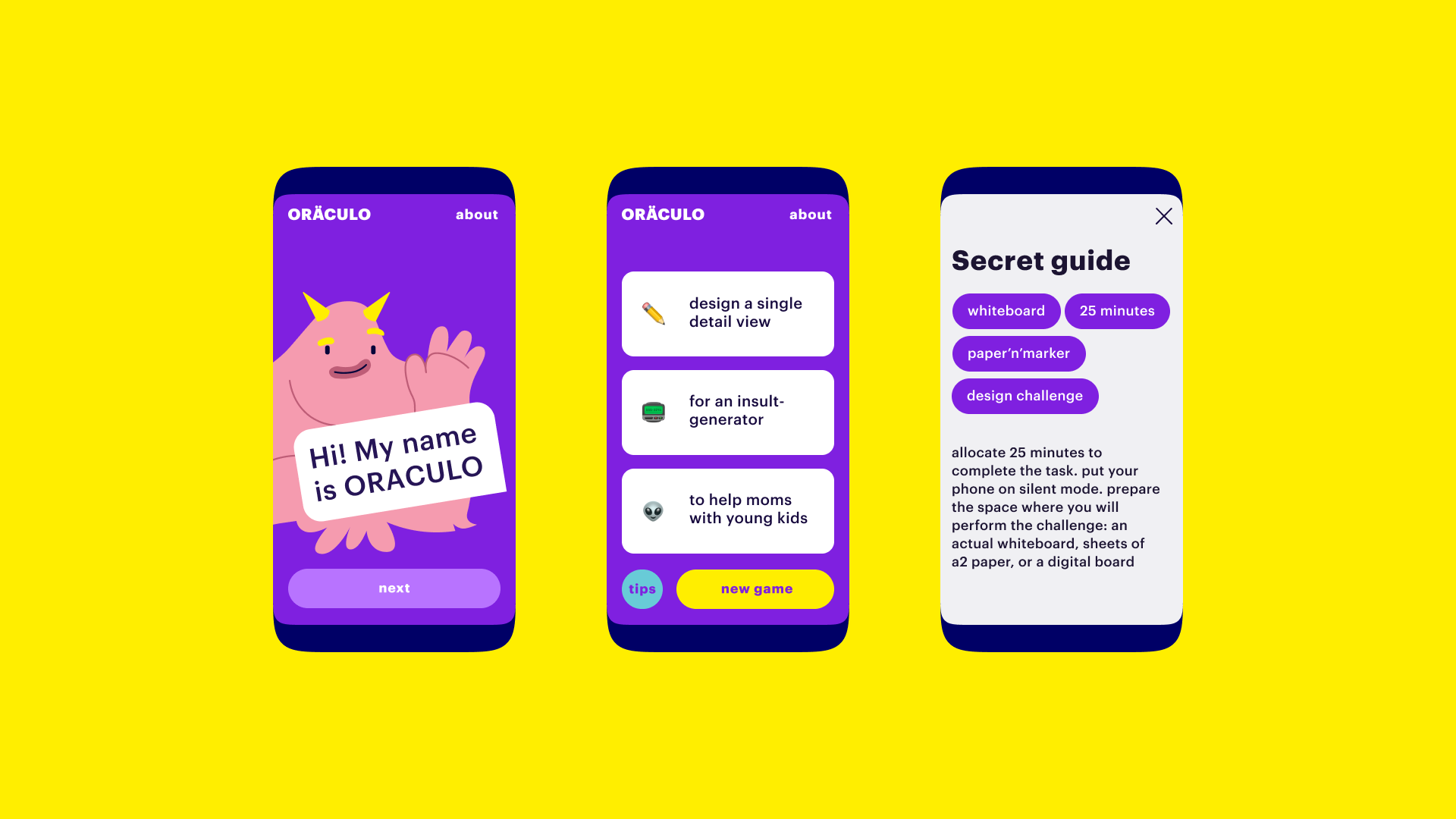 Conclusion
Evrone is a full-cycle development team, so we can not only write code and find the best technical solutions, we also help clients create an original, functional product using design tools.
Many of our developers make their own open-source projects, which we encourage and pay for. We like to pay the community back for the benefits that open-source solutions have brought to our projects and make our own contributions to the open-source culture.
Oraculo is kind of an open-source project created specifically for the design community. We do not use it to advertise ourselves, and we do not collect other people's ideas from it. We created it simply to help people in the design community develop their skills.
Any skill can only be learned through practice. For a product designer, the most important skill is not the skills of a graphic designer, but the skill of systematic use of goal-oriented thinking as a tool for solving practical problems.
Sergey Anenko
Art director of the ORACULO project