Why building Ruby community is important for company's growth
We have more than 10 years of experience in developing projects in Ruby and the widest expertise that we strive to share with those who are studying the latest technologies and want to develop their knowledge of Ruby on Rails. For that reason, we hold events where we gather everyone from the amateur Ruby enthusiasts to top specialists in certain industries.
We've held the Ruby meetup where we invited the speakers, leading Evrone developers and experts with notable experience, who presented the talks with the key topics in Ruby language. You can get an impression of the event and listen to the reviews of the attendees in the video report that we have prepared.
For the meetup, we chose one of the best venues in the city with a large hall, a huge screen and a comfortable area for networking during breaks. We had a full house at the event that gathered more than 200 people.
The guests of the Ruby meetup have listened to the reports of the experts, received useful information, had a chance to win gifts for asking questions to speakers. The most active attendees won the tickets to RubyRussia, the main conference devoted to the Ruby language in Russia, to which the founder of the language, Yukihiro Matsumoto, has come several times already.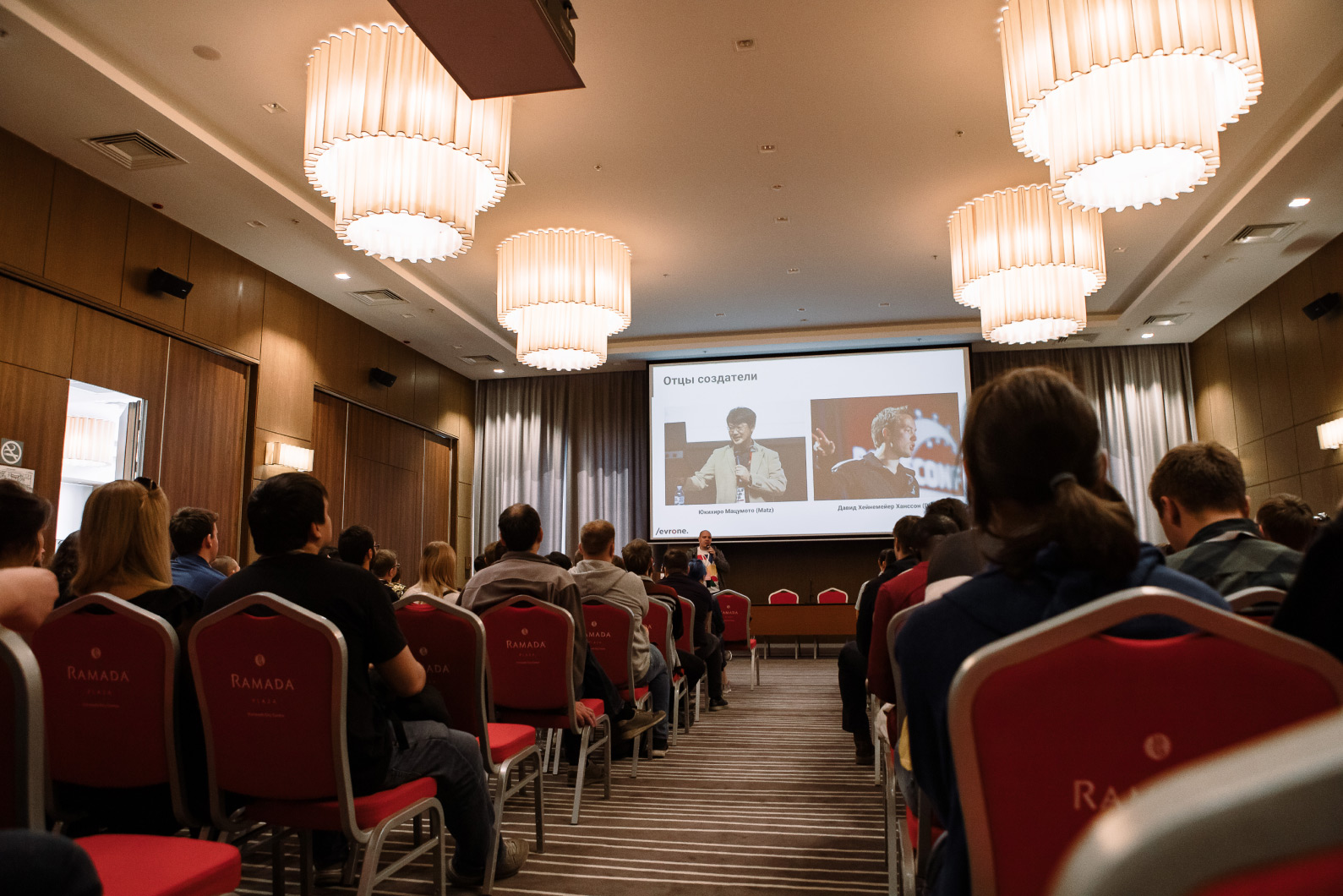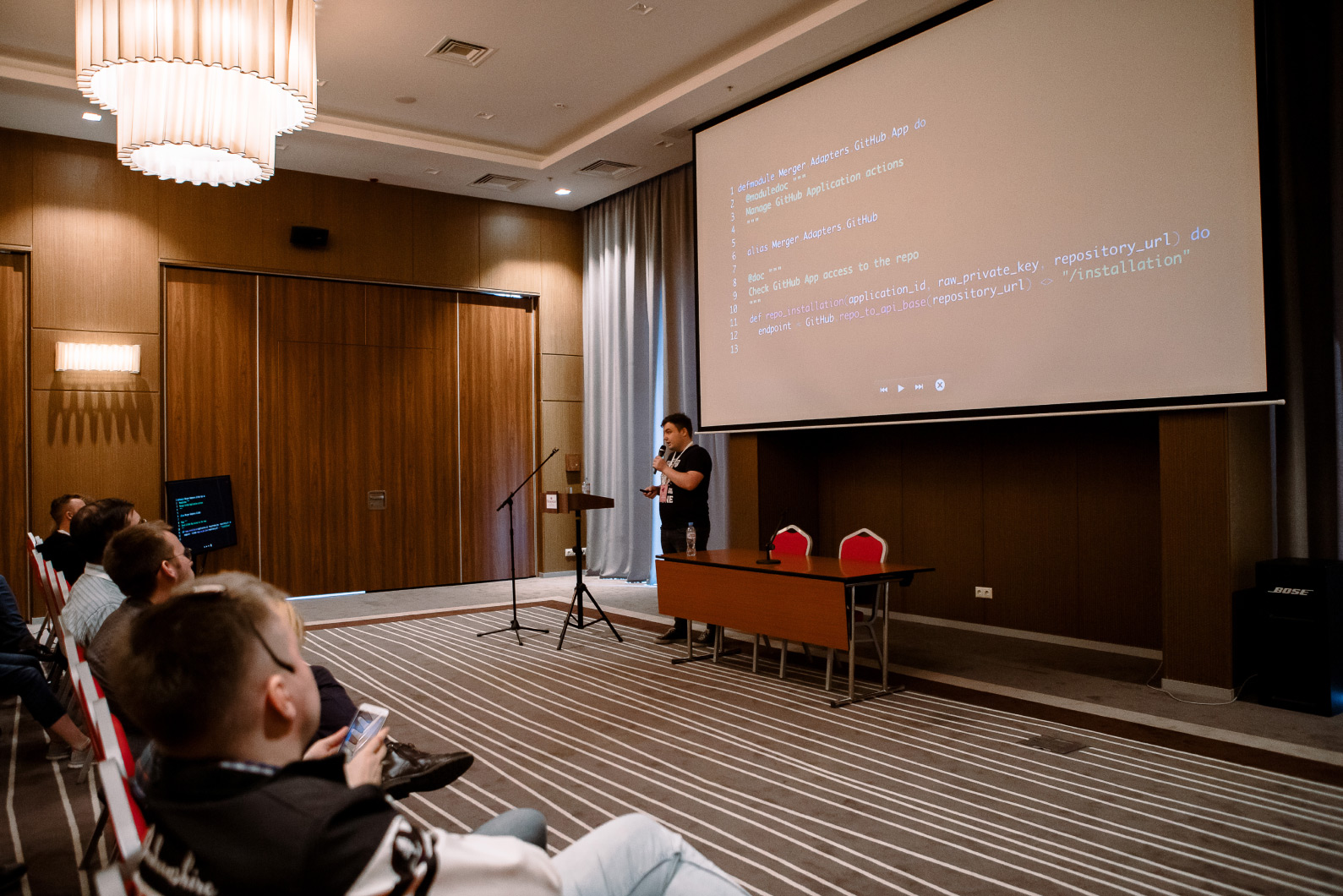 The reports presented at the Ruby meetup can be viewed on the YouTube channel of Meta/conf. Here are the links to the videos:
Oleg Balbekov, founder of Evrone and the RubyRussia conference. Why develop an IT community
Alexander Kirillov, Technical Director, Evrone. Is it worth to learn Ruby and what's new in Rails in 2019
Stanislav Mekhonoshin, Toptal Core Team Engineer. How to become an IT specialist: the path from a trainee to an engineer
Boris Kuznetsov, Team lead at Evrone. Remote Team: Effective Interaction Tools
Sergey Zinoviev, TechLead at DataArt. Time Concept: Date and Time in Ruby
Dmitry Koprov, Head of Development, LLC "Data Storage Center". Best practices for working with data in Ruby on Rails
What is Meta/conf?
The Ruby meetup was part of the Meta/conf event series. Meta/conf is a project of Evrone, which we carry out with the support of our beloved partners. We believe that cool events for developers should be held all over the world and we want to "change the meta" by organizing IT events in Voronezh.
What makes Meta/conf stand out is that it unites fans of different technologies and areas of software development in one event. The conference gathers top specialists, amateurs and students at one place which gives them a chance to establish better connections and form new tech-devoted communities.
Sergey Zinoviev
Techlead, Dataart.com — Software development company
Despite Rostelekom is known as very traditional in its work principles, it's not. We are always hungry for new technologies and are trying to implement some in our work. Metaconf organizers are known to be one of the best conference makers in Russia so there is no hesitation for us to visit it or to send speakers to share our experience with colleagues.
Dmitry Koprov
Head of development team, RTK-dc.ru — Management company