RubyRussia: How the barcamp turned into the largest Russian Ruby conference
RubyRussia is the main Russian conference on the Ruby programming language that is held by Evrone 
RubyRussia is the key Russian conference on the Ruby programming language that is held by Evrone in Moscow for 10 years in a row. Let's remember how it all began.
A pint of beer
In 2007 the developers Ivan Yevtukhovich, Oleg Balbekov and Iurii Gurzhii began using the Ruby language and the Rails framework in projects. The people also interested in the technology has started to grow around them. In 2009, they decided to organize a small gathering of like-minded people.
The Gogol restaurant was chosen as a place for the gathering. We agreed that the restaurant will provide a small room, and we will try to make profit for their bar that day. We have prepared three reports. In addition to our acquaintances, we have invited the participants of the profile chat groups. On April 19, 2009, we had held the first gathering with beer that had been attended by around 30 people. Then the gathering has grown into RailsClub, and in 2018 we have changed the name to RubyRussia, because we received a change request, which we could not refuse.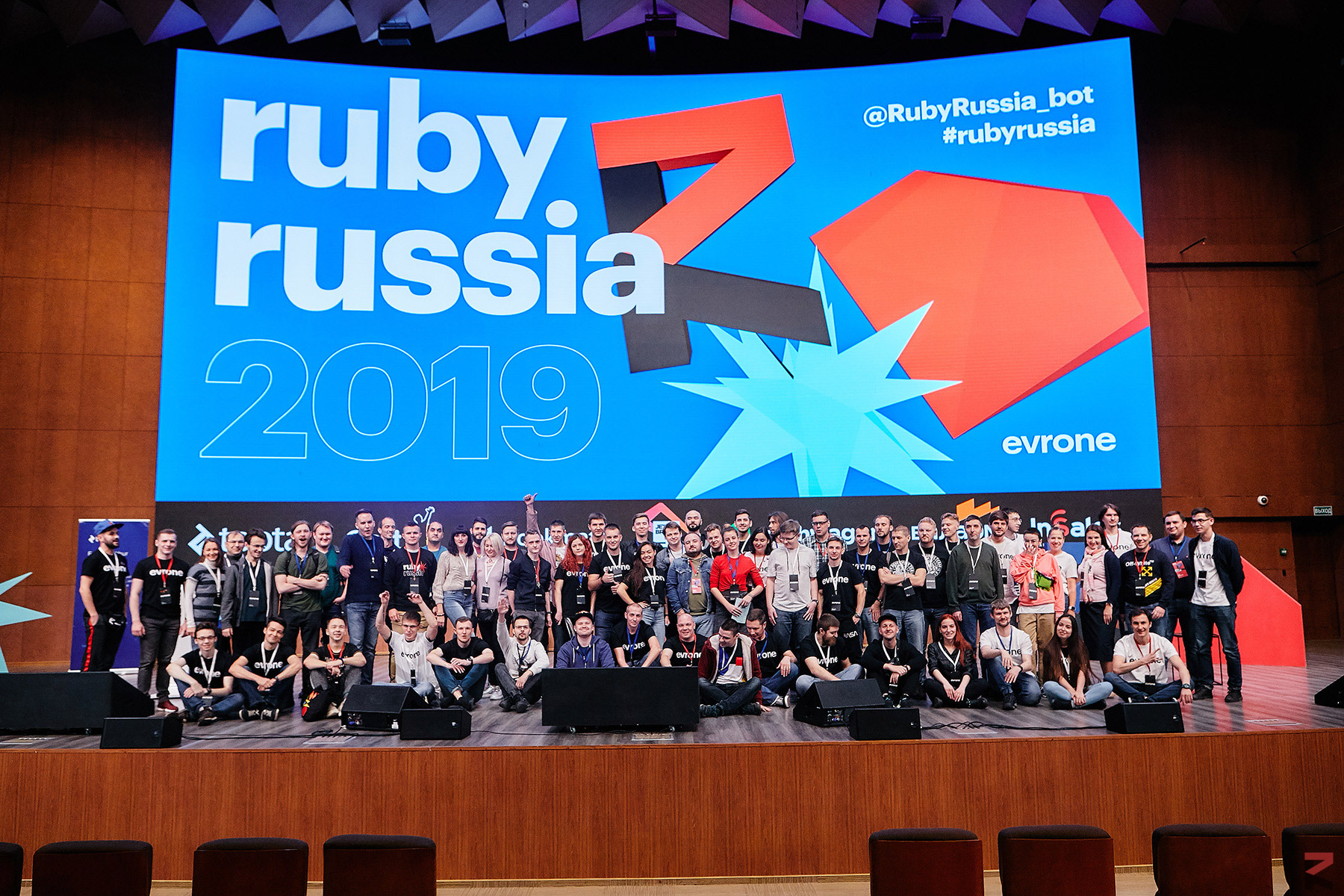 The participants of the first gathering had really enjoyed it, and we, in the wake of success, had gathered a couple more barcamps. More people attended each time, and soon the Gogol restaurant had offered to provide us with the main hall. We spent everything at our own expense and only at the third event we decided to put a box for "donations" -  offering to donate as much as you can. And people did!
It seems like the key to the success of the first Ruby barcamps was a closely linked community and a rapidly developing technology. In 2007-2010, new frameworks were appearing almost every day and it was extremely interesting to be in the process of all this.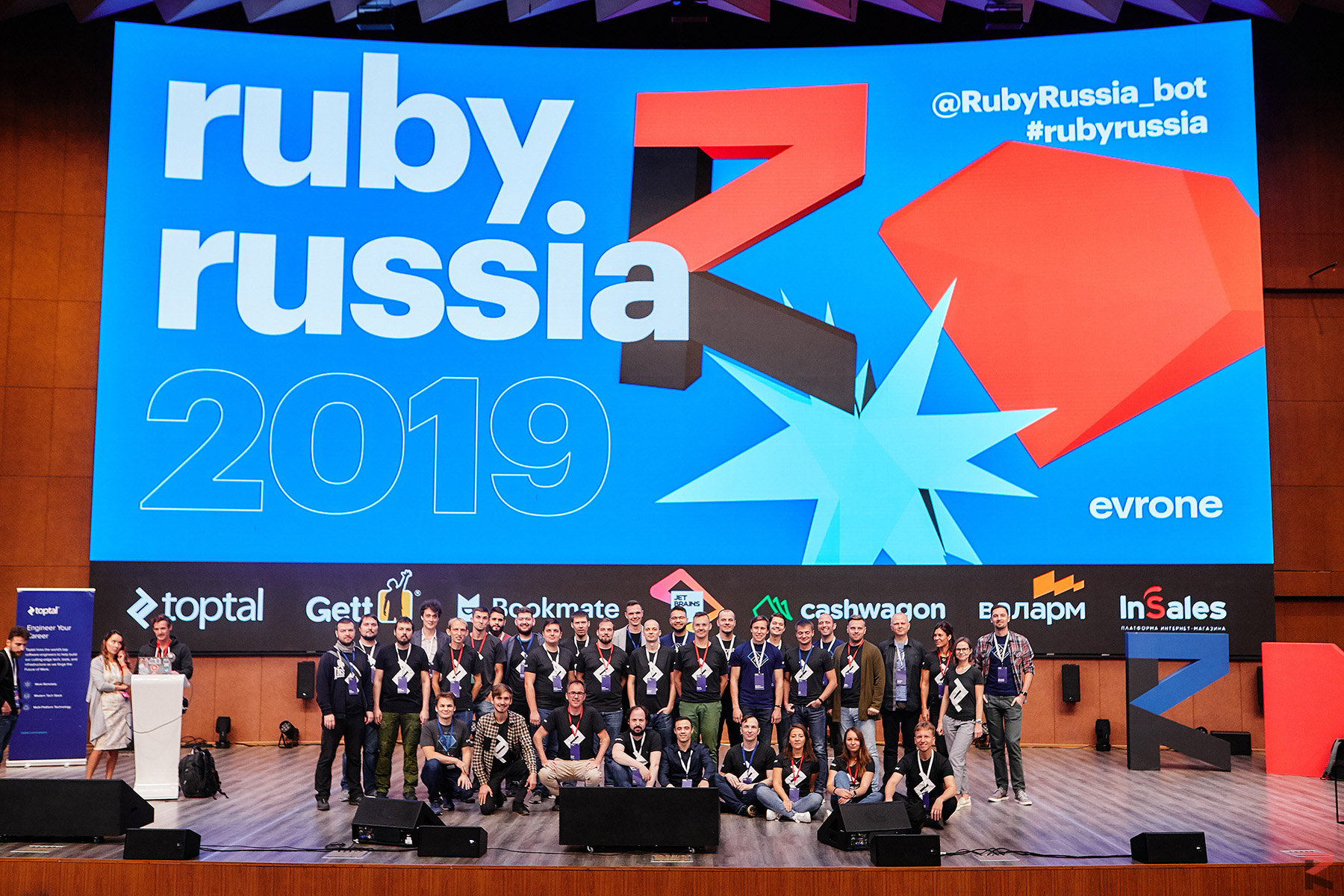 Exchange a motorcycle for a conference
Since 2011, the conference has outgrown both the Gogol restaurant and the Ruby-developers' get-together. It became clear that we are on the right track and we needed to bring the conference to the next, international level. That meant expenses, and at that time the funds could only be taken out of our own pockets.
It was quite expensive to invite speakers from other countries: although the celebrities of the community were ready to perform for free, we needed to bring them to Moscow, provide the accommodation, make sure they were spending a great time. In addition, moving the conference to a new, large venue in Digital October also was quite costly. The expenses for bringing foreign speakers begin long before the event, and the money from selling tickets comes much later. Anyway, we did not know how many tickets сould be sold. There was a risk of going under!
Despite the fact that the conference became a commercial event, it did not lose the spirit of the get-together.
We really wanted to have our own conference. I told my partners: "If it doesn't pay off - I'll sell a motorbike!" Actually I didn't have a motorcycle then, I have been saving money for it and thought I would have time to buy it before the conference and if necessary, I would sell it after it. We went negative a bit, but it was less than the cost of the motorbike.
The artificial Patterson
In 2014, we really wanted to invite Aaron Patterson, a member of the Ruby on Rails core team. But at first he did not accept the invitation. Then we came up with a creative move: we made a life-size paperboard figure of him and went to take pictures with it in the most famous Moscow sightseeing places. We posted the pictures on Twitter and tagged Aaron.
Those who took part in that photo shoot recall that it was extremely fun, but it became scary when we were surrounded by officers of the Federal Guard Service of the Russian Federation in Red Square with cars with flashing lights. In that year, the political situation was unstable, and our noisy crowd with a bearded paperboard figure could be mistaken for a political rally. We had to explain that this is not a rally, not a protest, but a man is a well-known programmer.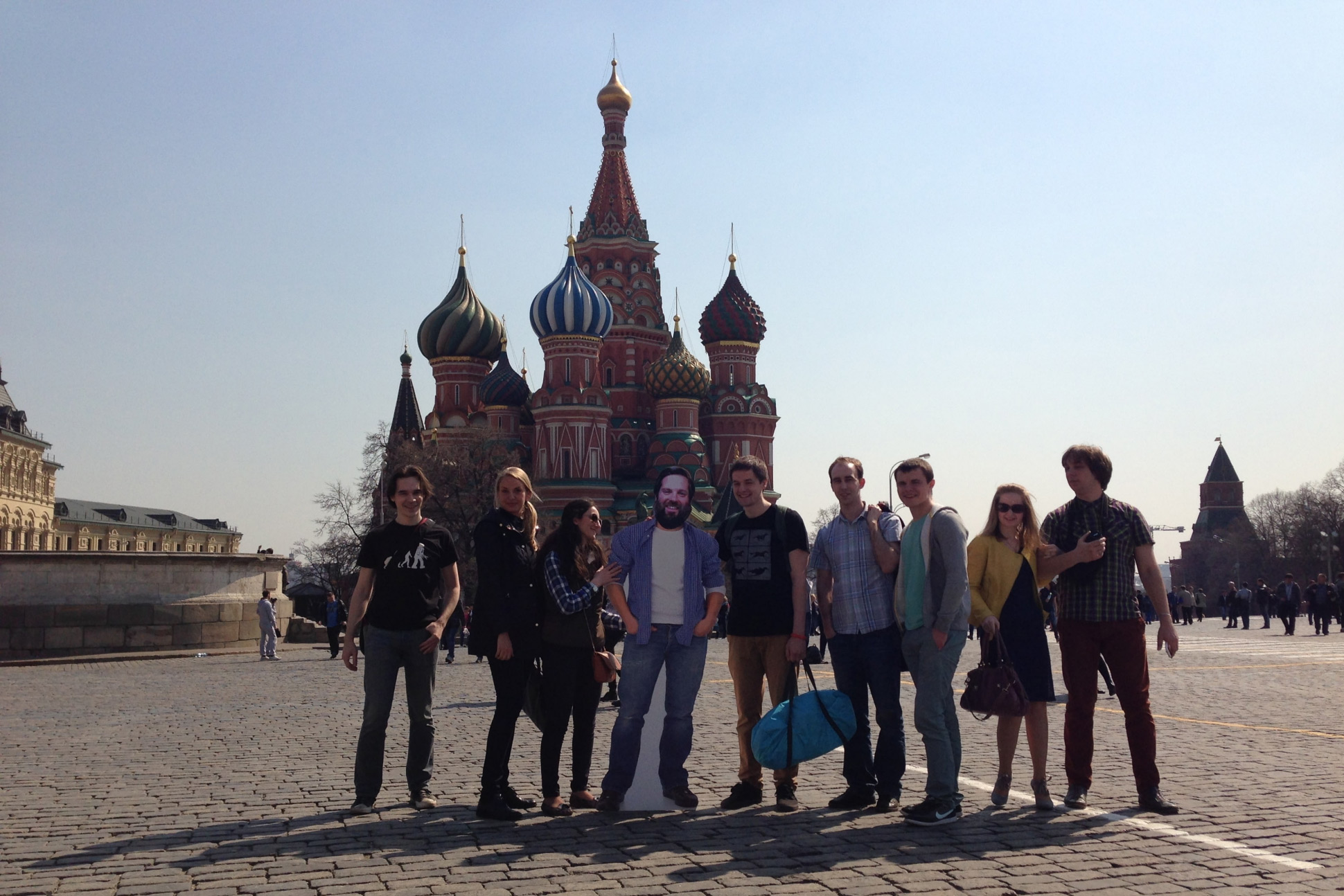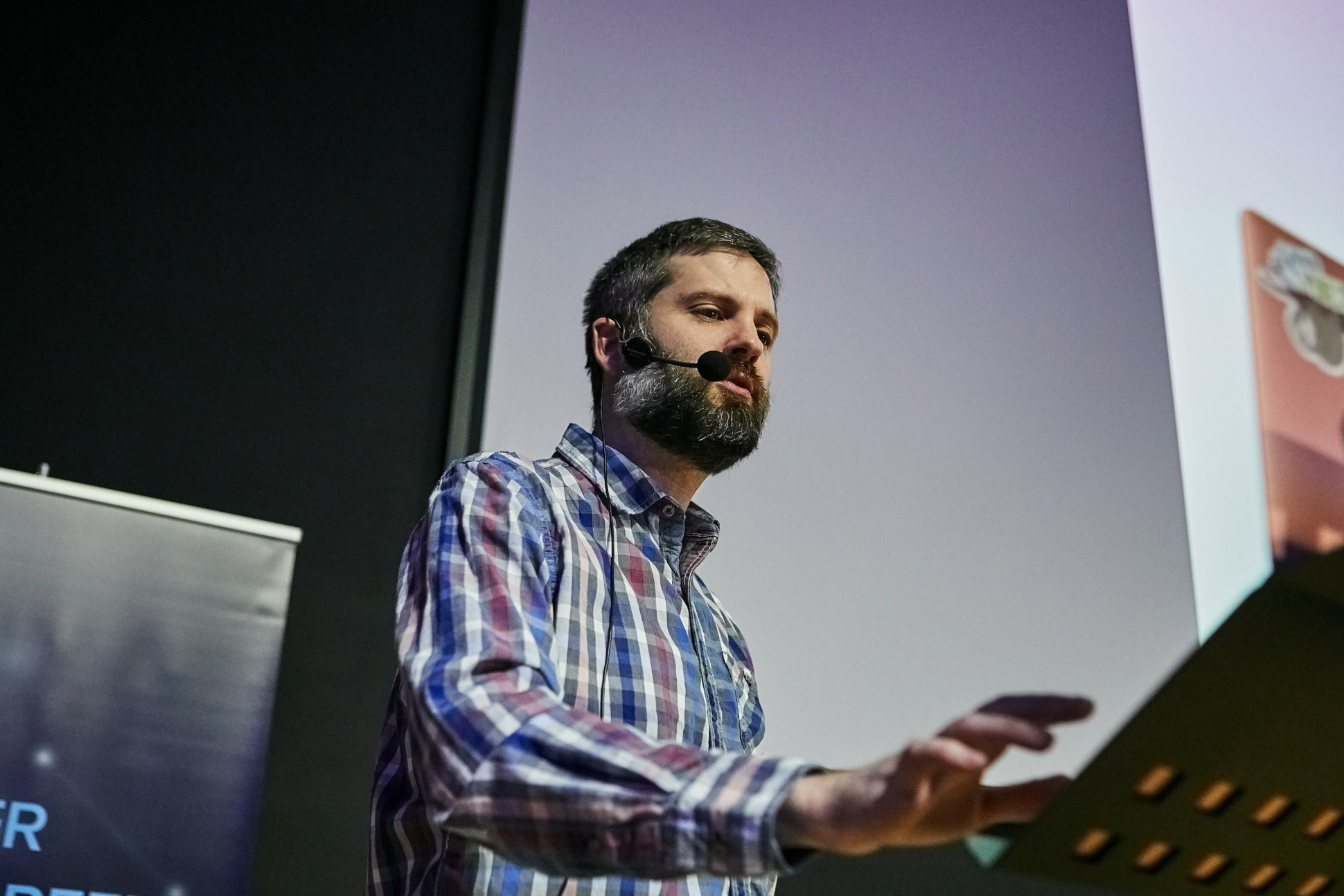 We found out that at that time Aaron was at a conference somewhere and people were approaching him asking: "Have you seen what is happening in Moscow?" For sure, after this Aaron Patterson agreed to come to RubyRussia. How he could refuse if his cat's name is Gorbachev!
The story with the paperboard Aaron Patterson attracted Lena Mogilnikova to our team. She had been professionally organizing IT conferences in Yekaterinburg and wanted to continue doing it in Moscow.
I saw photos on the web, found out which company was so creative, and decided that I wanted to work with these guys! I came for an interview and from 2014 I have been organizing RubyRussia.
Thanks for the participation of Elena and the growing popularity of the conference, for the first time it brought the organizers a little profit. The truth is that we did not manage to enjoy it for long.
After the conference, we calculated the income and expenses and realized that for the first time we had earned a profit. There were enough money to buy a decent laptop. We've put the money in an envelope, and went went to have a lunch in a cafe. However when we left, we realized that we had forgotten the envelope with the money on the table. We never saw it again.
To Russia with love
After the arrival of the first international speakers, the so-called "Russian Express" became a working scheme. One by one the celebrities of Ruby and Rails world started attending the conference.
Most foreign participants noted that they had never seen such a friendly attitude as they did in Russia. They thought they would come to a cold country, where people with serious faces live, but they were surprised to be met by our friendly team at the airport, taken to the sightseeing, entertained. Everybody knew Aaron Patterson before his arrival, and at the event everyone wanted to talk to him and have a drink with him. 
We recall a lot of funny things. For instance, Sean Griffin came to Russia in a T-shirt at the end of September - we needed to urgently find a jacket for him! And for another participant we provided a mobile phone: he came with an American locked iPhone.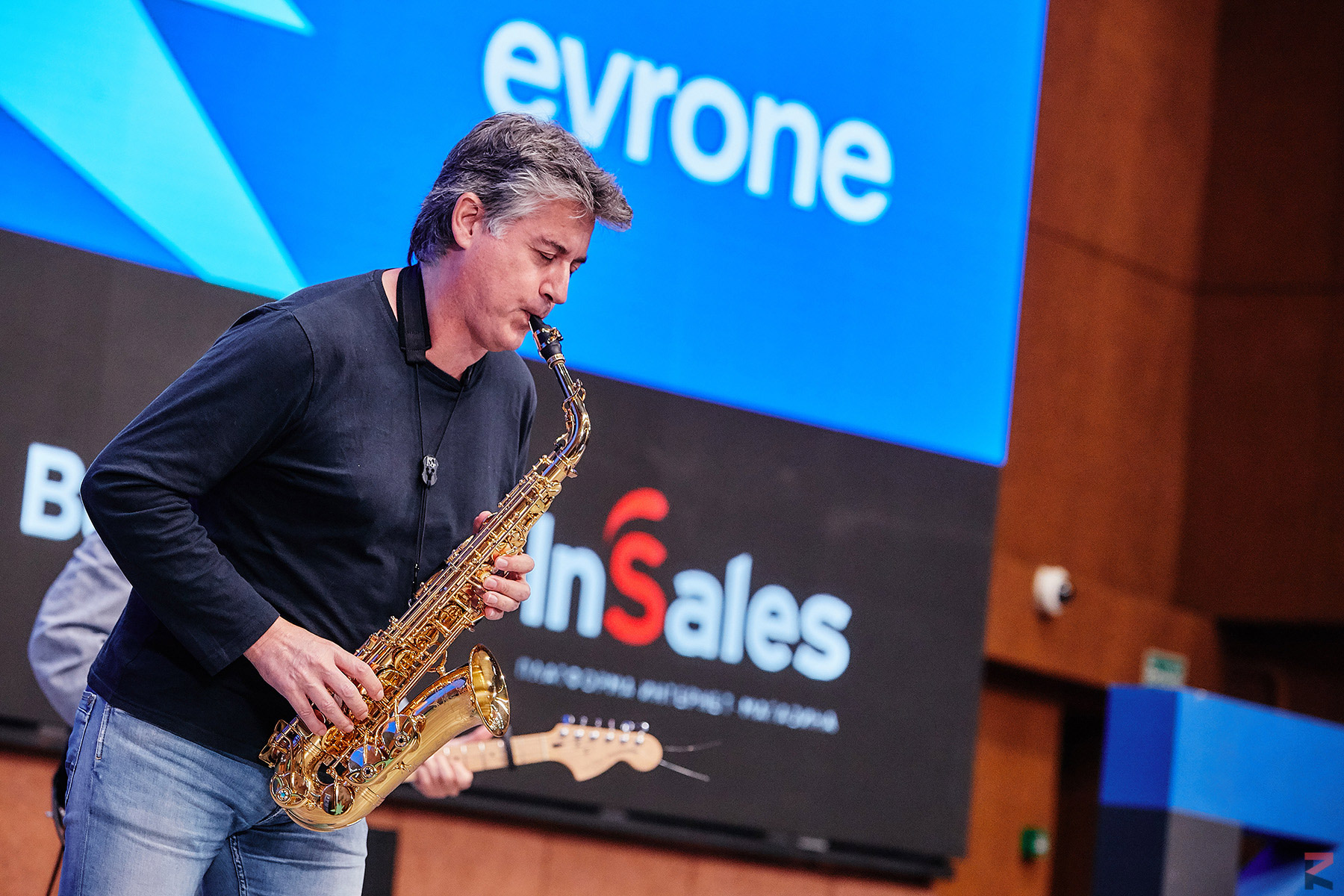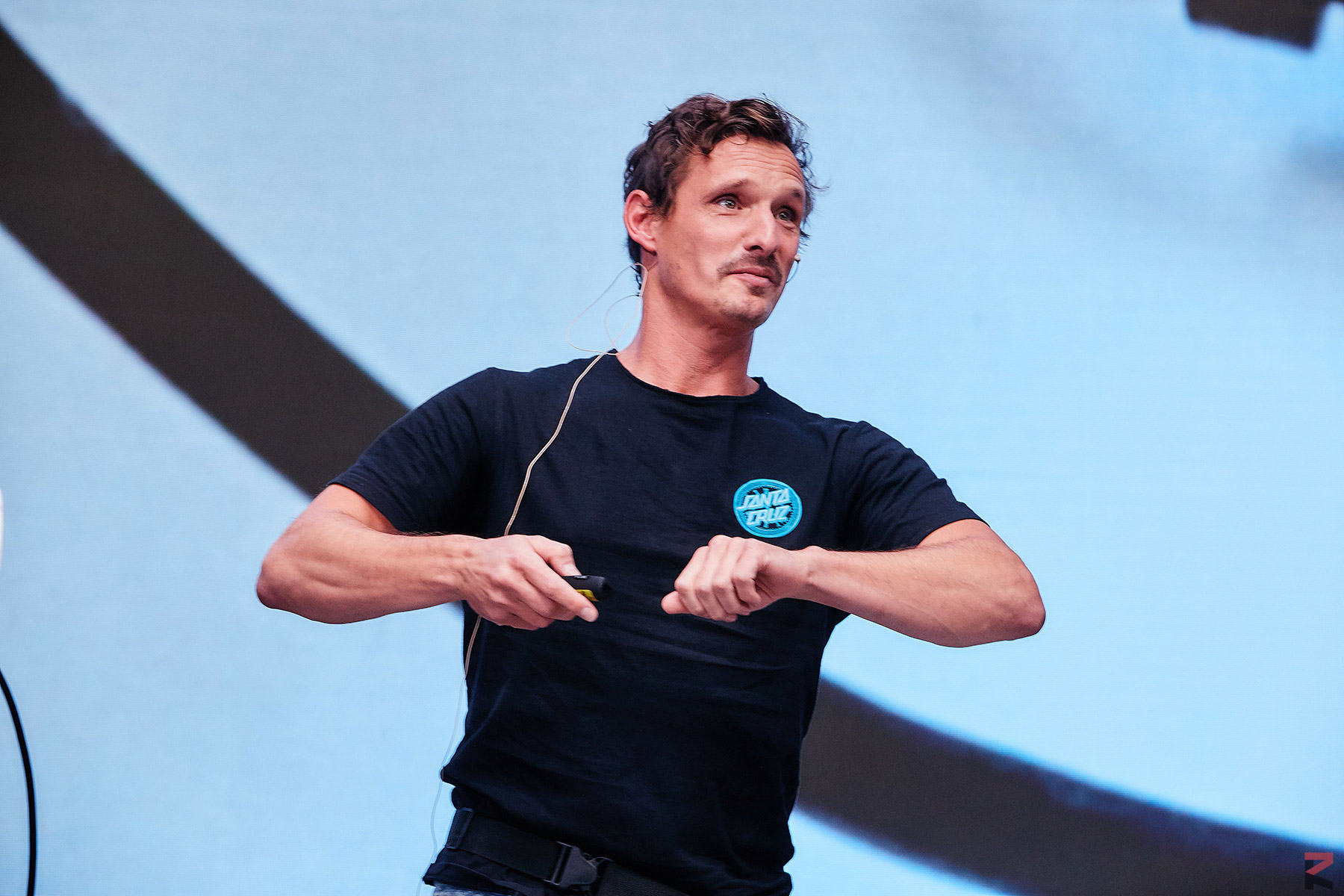 We never had to look for drivers or community managers. Developers from Evrone are happy to welcome guests, show them around Moscow. All thanks to the the DNA of RubyRussia that retains the atmosphere of those friendly barcamps. We even invited the speakers to celebrate the company's birthday with us. After that, they admitted that they never expected coming to Russia to such a cool conference and in between trying vodka for the first time.
With each new member from the USA, Japan, Germany, Great Britain and other countries, it was becoming easier to invite the stars. Van Netherland from GitHub told us after the conference: "If you want to invite someone, but the person hesitates - just put me in a copy of the email, I will confirm that you are cool guys." Other speakers showed their colleagues pictures from the Metropol hotel, where they stayed, their breakfast with caviar and champagne along with the sounds of the harp.
Our manager Mariam was responsible for sending out the invitations to the conference participants. One of the participants told us later: "I received an email written in excellent English from a pretty girl from Russia inviting me to come. I was sure that it was spam, and laughed about the letter to my neighbor Luke Kuigi. And he jumped up in his chair saying: "Wow, you are invited to such a cool conference. Say yes!"
In 2016, the creator of the Ruby language, Yukihiro Matsumoto from Japan, came to the conference. We negotiated with him for a long time but eventually achieved our goal.
After the conference, he noted that he really liked everything and that he did not expect everything to be organized on such a high level. He promised that he would come again, but with one condition: if we remove the word Rails from the name of the conference. It turned out that Yukihiro Matsumoto did not speak at Rails conferences, as he created the language not only for working within this framework. A visit to our conference was an exception. We removed the word Rails from the name of a conference, and Sensei kept his word - in 2019, he came again.
We should admit that the conference is not always going as smoothly as we want. RubyRussia faced some issues in 2014, amid a worsening international crisis. Some speakers were afraid that the war was about to begin, and refused to come. In 2015, just before the conference the long-awaited Sandy Metts returned the ticket. Some participants were concerned about the homophobic mood in the country, someone refused to go simply out of solidarity.
Ticket price is also a difficult question. No matter how much the tickets cost, there will always be someone who says, "Expensive!" Last year, a couple of weeks before the conference, all the tickets were sold out.
We basically keep the price at a minimum. It's important for the creators of RubyRussia that a regular developer can buy a conference ticket at their own expense. And this is despite the fact that 70% of tickets are bought by companies for their employees.
Mission
Today, Ivan Yevtukhovich, Oleg Balbekov and Iurii Gurzhii are no longer ordinary developers and managers. Ivan became the managing partner of Express 42, left the RubyRussia organization, organized the RubyNoName podcast, but never bought a motorcycle: a daughter was born. Oleg Balbekov and Iurii Gurzhii became co-founders of Evrone, one of the largest Russian companies involved in Ruby development.
The conference remains the driving force for Evrone. RubyRussia is based on a social mission: to connect developers with the community, to help them gain new knowledge. Someone finds a job at the conference, someone comes to shake Matsumoto's hand. And Evrone gets clients: different company's representatives come to the conference in order to get to know each other and discuss cooperation.
The RubyRussia Conference continues to grow year by year. In 2019, 800 developers and dozens of foreign participants have attended it and had the time of their life.
Follow RubyRussia conference on facebook, twitter & youtube.
I was surprised that we have more than 700 people, almost 800 people here. Which means Ruby Russia is one of the biggest Ruby conferences in the world. That is quite impressive.
Throughout all these years RubyRussia has been a spectacular event bringing together amazing speakers and a vibrant Ruby community. It's no surprise that the conference is expanding year over year. We at Toptal are excited to witness this growth from the front row. Every year we share our experience, discover novel ideas, and meet new colleagues at the conference.
Alexander Danilenko
Chief Software Architect, Toptal.com
RubyRussia? Definitely one of my favourite confs. Be ready for a great setup, many people, good chats, and an entertainment program that made me feel welcome and cared for the entire week!
Nick Sutterer
Nick Sutterer, Trailblazer.to — The software company
The conference participants are motivated and interested in new technologies, and we keep getting positive feedback from them. Being the largest Ruby conference in the country, RubyRussia serves as a landmark for the Russian IT community. It gives Ruby developers a chance to meet like-minded people, learn about the latest events in Ruby world and trends in the language.
Artem Sarkisov
Product Marketing Manager, JetBrains.com — Software vendor
Gett has been a Gold Partner at the Rubyrussia Conference for several years in a row. Gett is a high-tech company with an in-house team of developers, and supporting a conference of this scale is an opportunity to contribute to the growth and development of the Russian IT community.
Julia Khokhryakova
R&D Talent Acquisition Specialist, Gett.com — Transportation company