Evrone at RnDTechConf: Cinderella, Master Yoda, and Unicorns
RnDTechConf is a large IT conference for developers and managers that takes place annually, and the Evrone team has taken part in it more than once. In 2021, the conference included sessions in seven areas: frontend, backend, management, design, DevOps, QA, and architecture.
RnDTechConf is a large IT conference for developers and managers in Russia. It takes place annually, and the Evrone team has taken part in it more than once. In 2021, our specialists were there again with a report.
The conference
In total, the conference included 38 reports from top speakers, eight workshops, and 12 BOF-sessions in seven areas: frontend, backend, management, design, DevOps, QA, and architecture.
The topics focused not only on practice and tools, but also theories derived from the personal experiences of the speakers, as well as a lot of discussions in the format of workshops. We also talked about soft skills and how to remain calm and relaxed while working in IT.
Our QA Team Lead, Tatyana Sukhodolova, gave a presentation about the importance of knowledge bases, and our DevRel, Grigory Petrov, was the chief of one of the main sessions.
Having fun
At any conference, the most interesting experiences happen during the breaks between reports and at the afterparty. Here RnDTechConf can compete with the top conferences. The event took place in a country club on the left bank of the Don River, and at the center of the party was a huge pool with inflatable unicorns.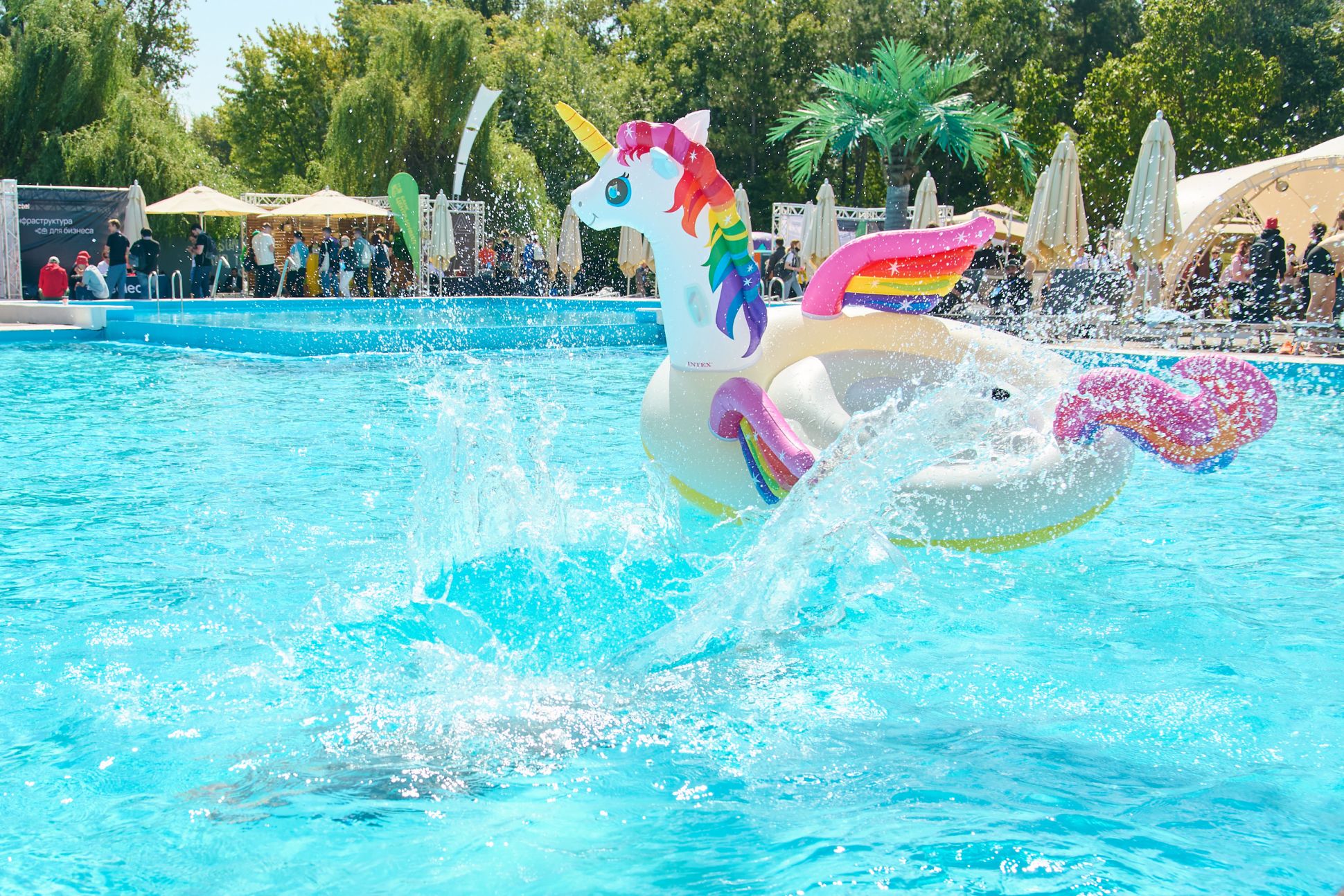 The partners' stands offered activities for every taste: from board games to real tattoos. You could build a tower on an inflatable whale with a disturbed center of gravity, you could play kicker or air hockey, solve the secrets of Van Gogh paintings created by artificial intelligence, play with Master Yoda, win a year's supply of socks or water bottles or a suitcase, and get lots of stickers. But the highlight of the program was the Code in the Dark tournament, where the participants had to take a shot and then code at speed, without previewing their work and only in HTML/CSS.
In the evening, there was karaoke and disco, hookahs, a bar with cocktails, and a barbecue. In general, food is a remarkable feature of RnDTechConf, and it was offered all day. Breakfast started with a variety of cereals and croissants, while lunch featured different Russian, European, and Asian cuisines, as well as vegetarian options. In between, you could get snacks, sandwiches, and fruits.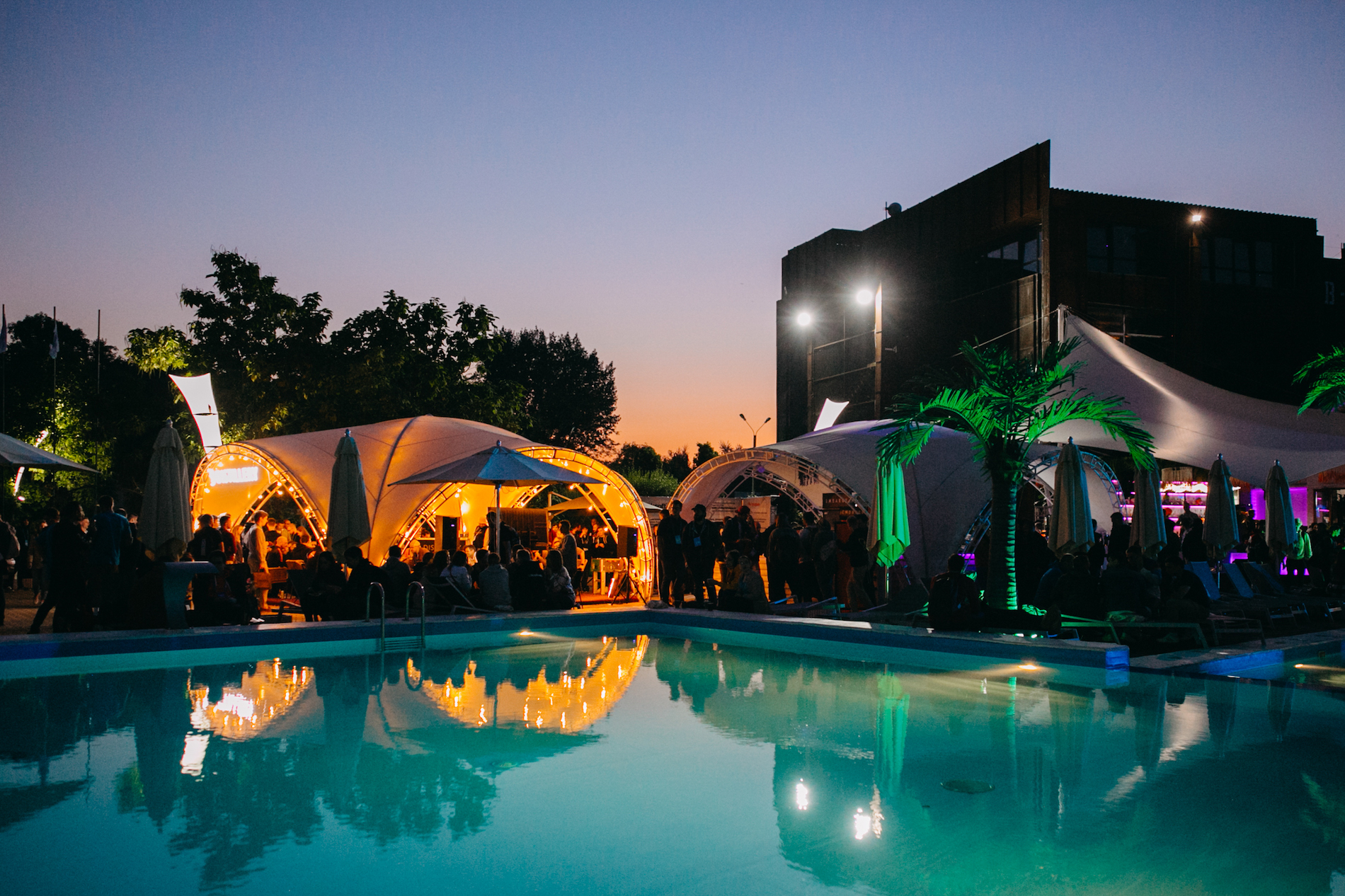 What we talked about
Internal knowledge bases and knowledge management practices came to Russia not so long ago, and many companies are only at the beginning of their journeys to create them. For her report, Tatyana, based on her experiences working on the Sbermarket project, answered the following questions:
Why can't you immediately create a new knowledge base from scratch if you already have an existing one?
How do you work on the structure of the knowledge base, and why is the design important?
How do you smooth the transition from the old knowledge base to the new one?
How do you keep the knowledge base up and running?
By the way, Tatyana wrote the pitch of her speech on her phone in 20 minutes, and it took her another hour to make a detailed thesis plan. Much of her preparation time was devoted to creating slides and practicing performing in front of an audience.
Tatyana makes the slides for her speeches herself, as this helps her to structure the report and better prepare for the speech. Both the report and the presentation were made in the style of the Cinderella tale, and here's why:
When I started working on the knowledge base for Sbermarket, I had the feeling that I was sorting out sacks of cereals: with buckwheat, millet, and legumes. And there were a lot of these bags, and the cereals in them were good, but they were all mixed with each other. And I, like Cinderella, needed to sort it out, put it in bags - shaking off the husk at the same time - and patch up the bags. This is how the concept was born.
DevRel Grigory Petrov assists all Evrone speakers with preparing their speeches. He himself gives reports at major conferences and knows how to organize them. He also has his own method of preparing for speeches, which is described in detail in the article about our participation in PyCon 2021.
Evrone has a system of internal meetups where our speakers can practice speaking in front of an audience. After that, they can collect feedback from colleagues and refine their performances to perfection.
Tatyana is an experienced and responsible speaker, therefore, together with the practice runs and the creation of the slides, preparation only took 50 hours. She has spoken at RnDTechConf twice already and plans to do it again.
We try to choose conferences that developers make for developers. And my task, as DevRel, is to know where conferences are taking place, to be familiar with the organizers, and to ensure our participation. RnDTechConf is like that. People who are most immersed in the industry gather there, with whom it is pleasant to discuss their work.
RnDTechConf had a stunning array of speakers, some of whom hadn't performed for a long time, but did there. We had live themes focused on different directions, for every taste. The tickets sold out before advertising even started. And that is not surprising: such networking and atmosphere, in a warm and sunny location outside the city by the pool, with well-thought-out organization, is fantastic.